As an Amazon Associate, this site earns commissions from qualifying purchases. For more details, click here.
How do you determine what the best portable solar power banks are? Well, we put several solar power banks to the test, based on their capacity, charge speed, flexibility and ease of use. While all solar chargers have the same purpose, how they accomplish this varies, and that is what separates the best from the merely good.
Aside from the product reviews there is also a buyer's guide included in case you want to take a look around. Solar power banks are no longer just for hikers and campers, as these are just as effective at home as a charger. All right, let's check these out.
In a hurry? Here are the top 3.
If you do not have the time to go over each review, here are the top three. For more details, just scroll below and see each review.
| Best Overall | ADDTOP 25000mAh Portable Solar Power Bank |
| --- | --- |
| Best Value | BLAVOR 10000mAh Solar Power Bank |
| Honorable Mention | Panergy 26800mAh Portable Solar Power Bank |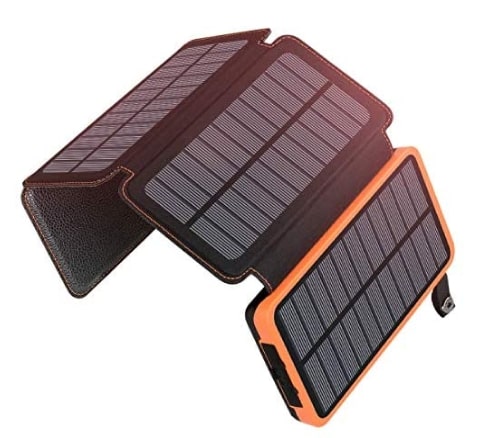 Waterproof
5W 1A
Dual 2.1A output
SOS mode
Strobe mode
4 solar panels
The ADDTOP Solar Power Bank comes with four solar panels so you can charge your phone as the power bank recharges, really handy if you're pressed for time. With four panels, charge time can be up to 5 times faster compared to other power banks. With its dual 2.1A outputs and 25000mAh capacity you can charge both devices at the same time. Fully charged the ADDTOP can charge an iPhone 9 times, a Samsung Galaxy 8 times and an iPad Mini 3.5 times.
There are three light modes, steady, SOS and strobe. The steady light serves as a flashlight for night reading or walking, and the SOS light is important in case of an emergency. The solar conversion charge rate is 88% with a total of 5W power. The USB ports are compatible with all popular mobile devices and they are waterproof. The device itself is waterproof so you can use this even if there is rain.
With its 92.5wh capacity, the ADDTOP provides sufficient power for typicalusers. Most use this power bank for phones, but it can charge a camera, Kindle and other devices (but not a laptop). Its lithium polymer battery is built to last and holds up to long term use. At 1.18 lbs it's just like holding your phone so it's convenient.
The four solar panels can be folded to a compact 6.1 x 3.3 x 1.3 inches. You'll have no problems finding space for ADDTOP in your backpack for sure.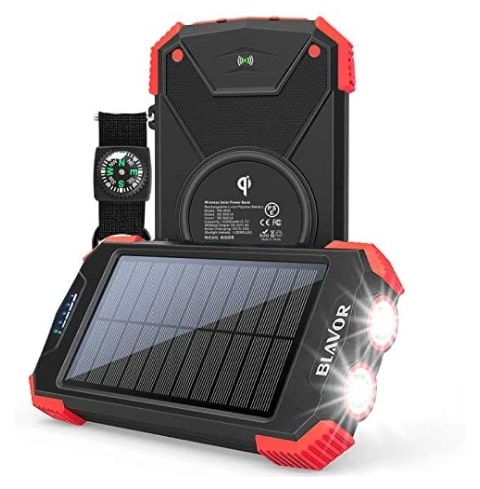 Qi wireless charger
Solar panel charger
Waterproof
Dual flashlight
180MA solar current
Dustproof
The BLAVOR solar panel Qi wireless charger / power bank combines power, versatility and durability. Built expressly for outdoor use, the BLAVOR also comes with a dual flashlight for night or emergency use anytime, anywhere. It even has a compass kit, a real life saver in case you're out in the woods and the GPS stops working. With its USB port, charging your phone is as simple as plugging it in and letting the power bank do the rest..
Another strength of the BLAVOR is its durability. This is an IPX4 shockproof, dustproof and waterproof solar power bank. What that means is you can use this charger outdoors with confidence. You don't have to worry about dust getting into the charger or water splash causing damage. When you are camping it's inevitable your power bank gets some dirt or water, so it's good to know the BLAVOR can handle it.
If your device supports Qi wireless, you can charge without a cable. Just enable Qi wireless on your device and the charger will do the rest. Cables can be messy and difficult to store in a full bag, so wireless makes charging easier. At 16 oz the BLAVOR is also very light. If you want to get the most space from your backpack this power bank does its part.
The BLAVOR uses a lithium polymer battery so expect this to last a while. The charger is built from solid ABS materials so it can handle hiking, camping and outdoor activities just fine.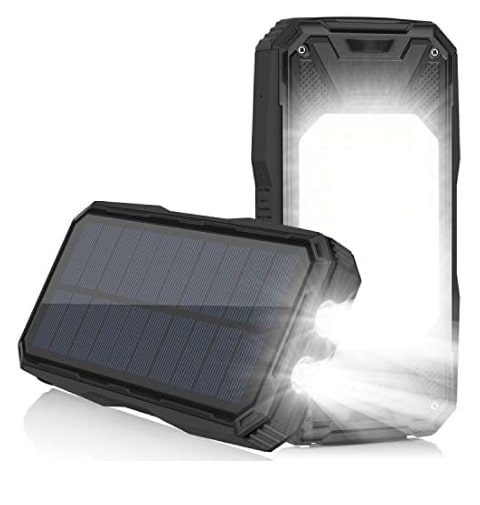 Charges multiple devices at once
PD 3.0 charge
Shockproof, dustproof, waterproof
Mosquito repellent light
LED highlight flashlight
Fast recharging
The first thing that stands out from the Panergy power bank is its 26800mAh capacity, something campers will welcome. It is double what low end power banks offer so it's more bang for your buck. You can charge multiple devices at once so no need to wait for one device to finish before charging another. There is support for C 18W PD 3.0 for fast charging.
The Panergy can charge an iPhone 11 4.7 times, a Samsung Galaxy Note 10 3.5 times and iPad Air 3 1.8 times. That is if you charge all at the same time, so if you only charge a phone the Panergy will last for a very long time.
If you're a power camper with multiple gadgets, this is the type of solar power bank you'll want to look at. With Quick Charge 3.0 and PD 3.0 you can charge an iPhone 11 up to 50% in 30 minutes. For that alone the Panergy is worthy of a place in our list.
There are two light modes, dual flashlights and panel light. Either one is ideal for campers and backpackers. It also has a mosquito repellent light mode, a unique but helpful feature. Who hasn't tried to fight off mosquitoes when outdoors? This is one of those unexpected but useful extras that campers, hikers and backpackers will appreciate.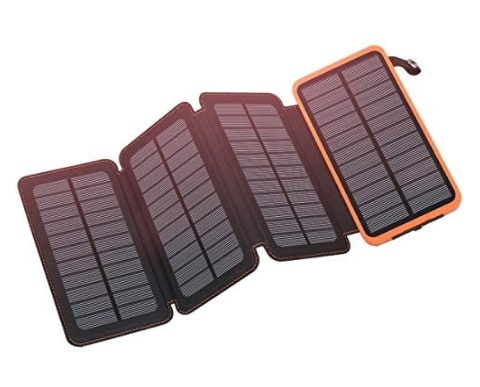 Waterproof
Dual USB ports
4 solar panels
LED flashlight
Multiple device charging
SOS emergency light
The FEELE slogan is all about keeping you powered, and that applies here. With a 25000mAh capacity you can charge two devices at the same time. At full power the FEELE can charge an iPad Mini 3.4 times, a Samsung Galaxy 8 times and an iPhone 9 times. This is possible when you use its solar panels which are among the most efficient in its range.
The FEELE weighs 1.1 lb and measures 6.1 x 3.3 x 1.37 inches. This is a solar power bank that's built for hikers, backpackers and campers. You can unfold the power bank and attach it to your backpack, so as you go, the solar panels get charged by solar power. When your phone gets low on battery, remove the power bank and plug in your phone to recharge.
Power banks get exposed to the elements but the power bank is ready. It's dustproof, rainproof, and shockproof. The power bank provides protection against short circuit, over voltage, overloading, overcharging and over discharging. The device is not only powerful but also convenient, as it won't require you to keep an eye on the charge process.
The silicone cover for the USB ports are well implemented. It provides protection against rain and dust without hampering functionality. This protection doesn't impede its ability to charge phones and other USB devices so that's a plus. The SOS light is the icing on the cake.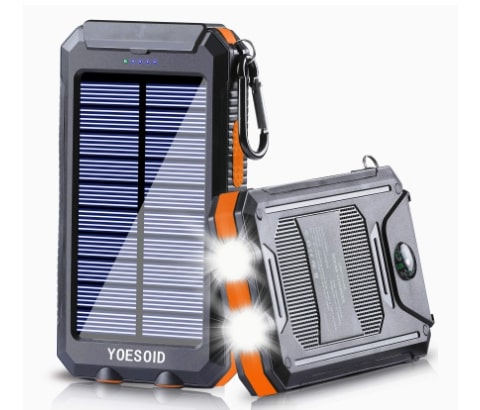 2 USB ports
2 charging modes
Compass
IP65 waterproof & dustproof
Dual LED flashlight
Solar panel
At 250 g and 5.5 x 3 x .67 inches, the YOESOID is best described as small but powerful. With 20000mAh you can use this power bank at the beach, camping, hiking trails, fishing or traveling anywhere. Its light weight and compact design makes it easy to carry and attach to a backpack for charging on the go.
The YOESOID is rated IP65 waterproof and dustproof. Water splashes won't damage this power bank and neither will dust. If you go to the beach and/or dusty places, the YOESOID will hold up fine. With its capacity and 2 USB ports you will have no problems charging your electronic devices, and it's fast too. Want to charge your phone and tablet simultaneously? No problem.
There are two ways to recharge the YOESOID, the solar panel or the included wall adapter. You can for instance, charge the power bank at home then use the solar panel for recharging on the road. It's nice to have both options and chances are you're going to use them both. There is a battery status indicator so you'll know when it is charged. A solar charge indicator is included too.
The dual LED flashlight is clear and lasts for hours. There is a compass built into the power bank, handy in case your GPS goes down. There's even a carabiner for easy storage included.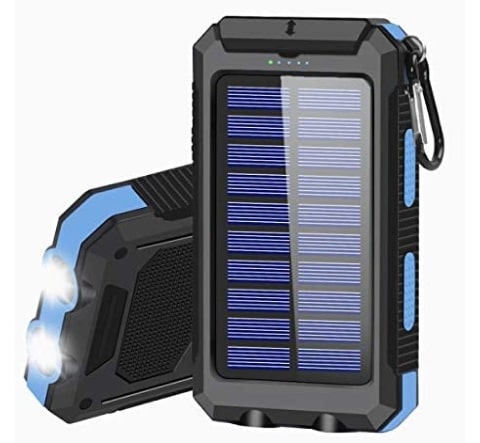 Dual USB ports
SOS strobe light
LED flashlight
Waterproof
Dust proof
2 charging options
The Oukafen comes with a premium lithium polymer battery and solar panel, perfect for hiking, camp adventures when you need a reliable phone charger. At 250 g the Oukafen is one of the lightest solar power banks, but it's durable, dust proof and shockproof thanks to its silicone / PC and ABS construction. This is a solar power bank that can handle the outdoors.
With its dual USB ports you can charge 2 devices at the same time without losing speed. its solar panel does a great job converting solar energy and its lithium polymer battery performs as expected. Anything under 5V can be charged so it's not just smartphones but also GPS, tablets and other small devices. The Oukafen is dust proof, shockproof and waterproof, just what you need for backpacking, trekking etc.
There are two ways to recharge the Oukafen, via the solar panel or its micro USB wall outlet. So if you're at home you can charge this like any electronic device. Then on the road you use the solar panel for your phone. Its LED flashlight is a clear, bright white with SOS and strobe lights available.
The Oukafen is a no-nonsense solar power bank. It doesn't have any bells and whistles but gets the job done. Even though it's small, the Oukafen packs a lot of power and is ideal for any backup power need.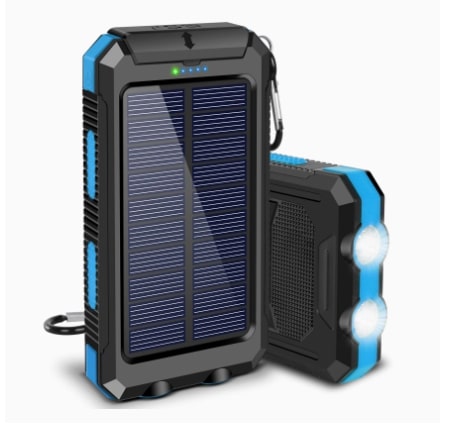 5V dual USB ports
LED light
Waterproof
Auto current detection
Overload protection
Dual charging option
With its Smart Express Charge the F DORLA can charge two smartphones without sacrificing speed. These are 5V USB ports so as long as the device is under 5V you can use it here. This solar bank also has complete protection against overloading, over voltage, short circuit, over current and overheating. When you charge a device you don't have to worry about damage.
You recharge the F DORLA two ways, by USB or solar. A blue light indicates a USB charge and a green light when solar charging. For best results you should fully charge the F DORLA then use either charging option during your trip. And speaking of trip, the F DORLA has a a carabiner for easy backpack attachment. A compass is included as well.
The F DORLA doesn't disappoint in the durability department either. It is impervious to dust and is waterproof. The entire unit is shockproof so a few bumps here and there won't damage it. When night falls you can switch on the LED flashlight and see your surroundings. Now you don't have to pack a flashlight in your backpack, saving space and time.
One more feature should be pointed out, and it's the auto current detect. This enables the F DORLA to detect the current of your device, which allows it to use the optimum charge settings and speed up charging.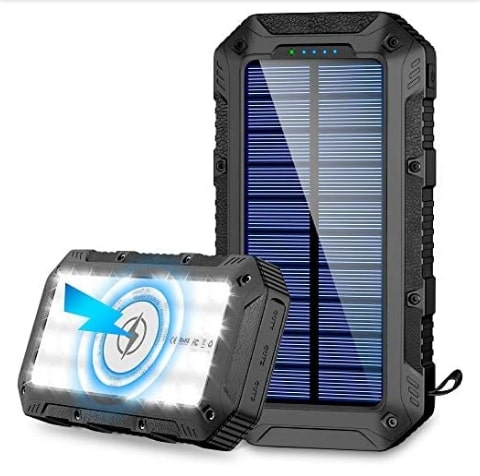 Wireless charging
28 LED lights
3 micro USB outputs
Charges up to 4 devices at once
High quality solar panel
3 light modes
With a 26800mAh battery, the GRDE can charge the iPad Pro twice, a Galaxy Note10 6 times and an iPhone 11 up to 8 times. This isn't just a solar power bank as it is also QI wireless compatible. Want to charge your phone without messing around with a cable? Just plug in your Qi compatible device, turn wireless on and the GRDE does the rest.
Wireless charging is convenient but the GRDE offers more. It also has 3 USB ports so if you combine that wit wireless charging, you can charge up to four devices at the same time. With its huge capacity, simultaneous charging will not slow it down. When you charge a device, the GRDE checks its current and adjusts the output for the best match.
This solar bank has 28 LED lights with 3 modes, essential for night travel, repairing something or emergency. With multiple modes you can adjust the flashlight as necessary. The GRDE is made of solid ABS, just what you need when camping and exposing the power bank to diverse elements.
The GRDE recharges by solar panel or with cable. A carabiner is included for quick strapping on your bag. The power bank is also compatible with all popular smartphone and tablet models as well as GPS, radio and more.
Kopeak 30000mAh Solar Power Bank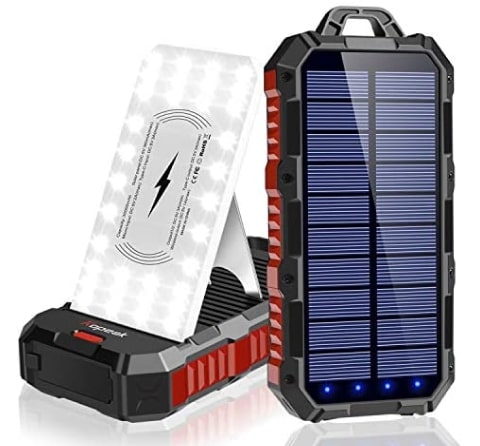 Wireless charging
34 LED lights
2 USB ports
1 Type C port
Dustproof, sweatproof, shockproof
3 light modes
The first thing you'll notice with the Kopeak is its 30000mAh battery, which is just huge. With that you can charge an iPad Pro 2 times, a Samsung Galaxy 6 times and an iPhone11 8 times. That's on just one charge, so it makes a big difference if you use several devices. If you have a Qi wireless compatible device you can dispense with the cable too.
The Kopeak also has a couple of USB ports and a Type C port for regular charging. Combine this with the Q wireless charger and the Kopeak can charge 4 gadgets at the same time. Recharging the solar power bank is fast, same with charging your phone or tablet. What sets this apart is the battery capacity so it needs less frequent recharges.
There are 34 LED lights built in and you can tell by how bright the light is. The wireless charger bracket is adjustable and the frame is solid. The Kopeak is dust proof, sweat proof and shockproof. It is made of ABS and its rainproof too. There is no maintenance needed.
Whether it is climbing, fishing, hiking, camping, or you need a solar power bank for work and play, the Kopeak can deliver the goods. It is easy to use and works just as well in a campsite as in any office or home.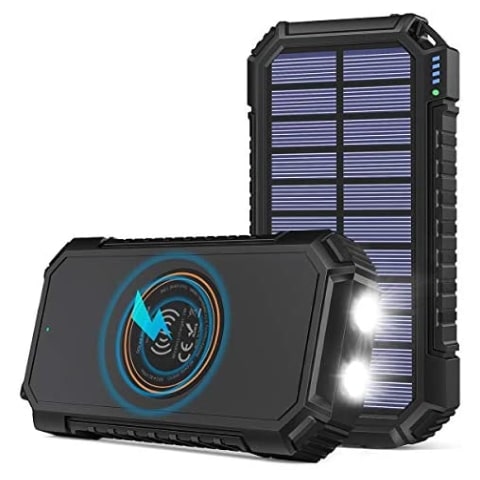 QC 3,0 Quick Charge
Solar panel
3 mode LED light
4 outputs
Current auto detect
Waterproof
With its 26800mAh battery, the Riapow solar bank has the juice to charge your phone multiple times. It has full support for QI wireless charge so you can discard that cable. If your device doesn't support wireless charge, there are 3 additional (3A) outputs available.
The Riapow lasts 8 days on a full charge. That is good for 3 iPad Mini charges, 6 Galaxy S10 charges and 8 iPhone 11 charges. If it's speed you want the Riapow can charge an iPhone 11 100% in 90 minutes. it is compatible with all the popular iPhone, Samsung and other mobile phone models. Whether you opt for wireless or regular charges the Riapow does it fast and safely.
Want to charge on the go? Just strap the power bank on your backpack and the solar panel generates a charge under sunlight. As you might expect this is a dust proof, waterproof and shockproof solar power bank. It feels solid and it is, thanks to solid construction.
Its LED light has three modes, steady for your regular flashlight, flashing and SOS. Whether you are a camper or office worker, it's never a bad thing to have a flashlight or a powerful solar power bank for that matter. The rugged design is suited for outdoors but it's just as efficient for charging a mobile phone at home.
Solar Power Bank Buying Guide
Before you purchase a solar power bank you have to consider several factors. You may have a particular need that others don't, so keep that in mind. Even so there are some general guidelines that you'll want to look into.
Battery Capacity
Solar power bank capacities are measured in mAh, the higher the number the larger the capacity. High capacity power banks can charge devices faster and more frequently without needing a recharge. A 26800mAh power bank for instance, could charge an iPhone 8 times, a Samsung 7 times and an iPad 2-3 times before requiring a recharge.
If you charge multiple gadgets, get a high capacity solar power bank. It is better to have that extra capacity than not having one when you need it.
Charging Options
Most solar power banks have two options, solar charge and electricity charge via a wall adapter. Most come with these two and you can use both. Charging by electricity is faster and can be done at home with any AC power outlet. Just plug it in like any appliance or device and let the power bank charge.
Fully charge your power bank before going on a trip. That should be enough to charge several devices. This way you can keep the solar charger as a backup option in case the power bank runs low. If you only charge a phone, a good capacity power bank will last for days.
Number of USB Outputs
Your power bank should have at least 1 USB port, preferably two or three. Having multiple ports allows you to charge multiple devices. like a phone, tablet and another USB device. It's rare to find a solar power bank with just one output so this won't be an issue. The only thing you have to consider is how many ports you need and how much it will add to the cost.
Wireless
More and more solar power banks are going wireless, including some of the products reviewed here. Being wireless means doing away with the cable and saving space in your backpack. But not all mobile devices are wireless compatible, so what should you do?
If your mobile devices can be solar charged wireless, a wireless solar power bank is a good choice. The neat thing with wireless power banks is they also have USB ports. If your device does not support wireless, you can charge it the regular way. But it really comes down to whether you need this or not. If you don't mind carrying a cable then it's non issue.
Charge Speed & PD 3.0
Everyone knows solar power banks rely on sunlight. More sunlight, faster charge, right? Not quite, because the charging system also determines how fast the power bank charges on USB. Look for solar chargers with USB PD 3.0, which enables a device to quickly charge. While you can't do anything if the sky is cloudy, with PD 3.0 you can get more speed.
Durability
Solar power banks will be exposed to dust, dirt, heat, cold and sometimes even water. Even if you're careful these things can be hard to avoid. Don't settle for anything less than a waterproof, shockproof and dust proof power bank. Whether you go into parks, hiking trails, the city, etc. the device will be exposed to elements so it must be able to withstand them.
LED Lights
The most common extra – so common it's like a standard feature now – feature is the flashlight. A flashlight is certainly handy at night for campers. A regular flashlight is nice, but the better solar power banks have multiple mode flashlights with SOS and strobe lights. Both SOS and strobe lights can be used in an emergency.
Compass and Carabiner
A carabiner or hanger allows you to attach the power bank on your backpack. You could strap the power bank in a way so the solar panel is exposed to sunlight as you hike, charging it. Charging power banks on the go means you don't have to charge the panel when you take a break.
Some solar power banks have a compass built in. While GPS is everywhere, it's nice to have a compass too. You'll never know when your electronic devices will malfunction, so having a compass can help in case you are lost.
Warranty
How long is the warranty? How is the coverage? This are two aspects that many don't consider which is unfortunate. Always check the warranty so in case something is wrong you'll know if you can have it replaced or repaired.
Conclusion
Solar power banks are becoming more powerful and more versatile. It wasn't too long ago that you had to wait hours and hours just to charge a phone, but charging time today has been cut drastically. If you have never bought a solar power bank before now is as good a time as any. There is no shortage of options and with the products here, you get real value for your money.

I am an advocate of solar power. Through portablesolarexpert.com I want to share with all of you what I have learned and cotinue to learn about renewable energy.