As an Amazon Associate, this site earns commissions from qualifying purchases. For more details, click here.
A low battery notification is the last thing you want to see from your laptop. This is especially true if you're camping without a power outlet in sight. But not to worry, as we have rounded up the best solar chargers for laptop in this guide. We look at the top 10, their features, highlights and what you can expect from each one.
In this guide we reviewed each charger's capacity, durability, outputs and charging efficiency. How many times can you charge a laptop? That is covered in this review along with other important features. There is also a buyer's guide included.
In a hurry? Here are the top 3 solar laptop chargers
If you don't want to go through each review, here are our top three choices to sola charge your laptop and other mobile devices. If you want more details, just read the reviews.
| Best Overall | Kingsolar 40W Solar Charger |
| --- | --- |
| Best Value | Riapow 25000mAh Solar Charger |
| Honorable Mention | Hiluckey 26800mAh Solar Charger |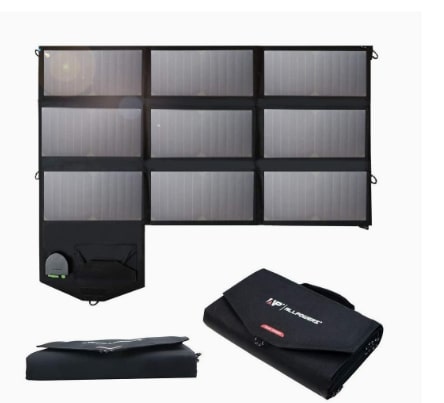 Fast charging iSolar technology
23.5% efficiency
Dual USB port
18V DC port
Easy backpack attachment
Water resistant
The SunPower laptop solar charger uses ALLPOWRS iSolar technology for fast, efficient and safe charging. This charger works great for laptops and also portable generators, smartphones and other electronic devices. Its foldable design makes the SunPower convenient to carry and the 23.5% solar panel efficiency rating is one of the best in this range.
There are two USB ports and a DC port for your gadgets, and you can charge two devices at the same time. Charging two at once doesn't slow the SunPower down thanks to its high efficiency rating. For comparison other solar chargers' rating is at 15%, so this is almost twice as fast. The SunPower is also compatible with popular solar generators like Goal Zero and Rockpals so you can charge them here too.
The water resistant SunPower comes with an intelligent regulator that monitors each charge. It protects your devices from overcharging, overheating and other potential danger. When you're done, simply fold the panel and you can carry it around. There are eye holes built in so you can attach this solar charger to your backpack.
While the SunPower charges laptops just fine, it is just as effective for tablets, mobile phones etc. This is the kind of charger you can take on a long camping trip. With its high quality solar panel you can still charge a laptop in less than ideal weather.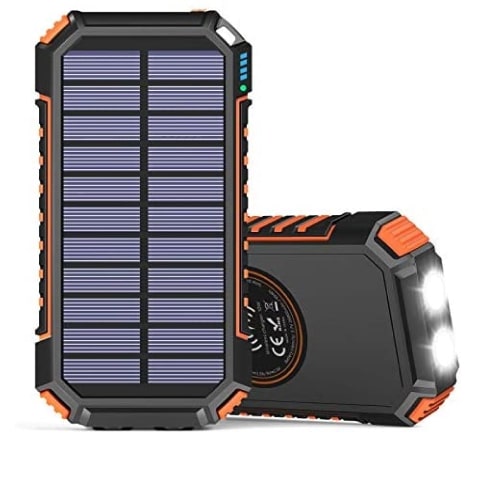 USB C port
PD & QC output
Lithium polymer battery
Micro USB input
Multiple mode LE flashlight
Less than 1.5 lbs
With its generous capacity, the Hiluckey solar power bank makes laptop charging quick and easy. At full power you can charge a tablet 5 times and a smartphone 10 times. This also means you can power up a 60000mAh laptop in 2 hours and a half. That is an excellent result considering this charger weighs less than 1.5 lbs..
Its USB ports are 12V compatible. With a QC and PD adapter you can fully charge the Hiluckey in about 8 hours. Going back to its charging power, tests show the Hiluckey charges an iPad Mini 4 times, an iPhone 11 times and a Huwaei Pro 6 times. The results may differ depending how drained your device is, but you get the idea what this solar charger can do.
The Hiluckey can be recharged by Type C (7-9 hours) or micro USB (12-15 hours). That is faster than other solar chargers and it's due to the PD quick charge technology. Its solar panel charges well though it is best used for emergency purposes. Speaking of emergency, the Hiluckey has a LED flashlight with steady, SOS and strobe mode.
The Hiluckey is dust proof, waterproof and shockproof. You can take this anywhere and it will run fine. With its quick charge time and compatibility with laptops and mobile devices, there is not much else you can ask for.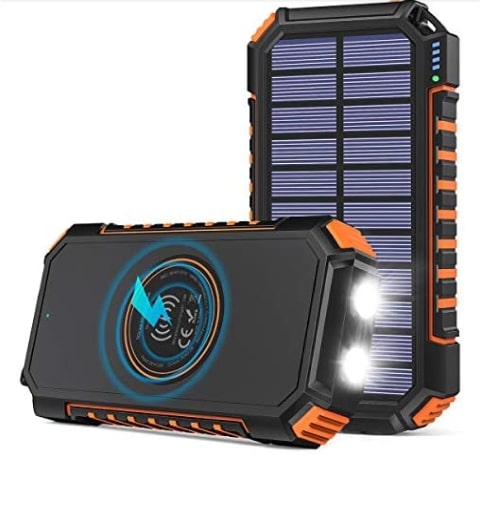 Type C & dual USB input
4 panels
Waterproof
Dual device charging
LED flashlight
Dust proof
The Riapow 26800mAh is an all around solar charger for laptops, smartphones, notebook computers, radios and more. Unfold the Riapow and you will see it has four solar panels for quick charging. These are 6W solar panels with a maximum current of 1.2A, which enables quick and safe charging for laptops and other devices.
The Riapow may charge two devices simultaneously with its USB and Type C inputs. This is a great feature if you brought a laptop and phone during camping. The charger has an automatic charge stop feature so the device will not overload. It is compatible with the iPhone, Samsung Galaxy and other popular smartphone models and manufacturers.
A LED flashlight is included and it has 2 modes. Mode 1 is the regular flashlight and mode 3 is SOS. The SOS mode is crucial when you're camping as it sends an emergency signal. The panel and the entire unit is waterproof and dust proof, perfect for taking out on the road, beach, the woods or anywhere outdoors.
At 1.2 lbs and 6 x 3 x 1.3 inches folded (14.3 x 3 in open), the Riapow is clearly designed for the serious camper. It has the power you need for charging laptops and other mobile devices, but it is light enough it won't slow you down. The warranty and 100% money back guarantee just makes the Riapow even better.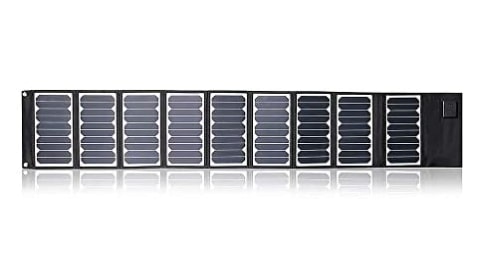 USB port
DC port
Waterproof
Foldable panels
23.5% efficiency
DC male SAE cable
The SunKingdom solar charger has all the essential features for charging a laptop, phone, GPS, and other gadgets you may take camping or traveling. This is a sturdily built solar charger designed to be compatible with all popular smartphone and tablet models.
The SunKingdom comes with numerous eye holes that make attachment to bags easy,. You can carry this on your backpack for charging on the fly and it only weighs 3 lbs. Cables are included for other setup options and it has a carry bag for convenience. The package is bundled with different laptop adapters so you should find one for your model easily.
Charging a laptop is quick and recharging is fast too, taking 3-4 hours. Its 23.5% rating makes a huge difference during charging and it is capable of powering up speakers and other devices. Basically any device under 5V and 18V DC can be recharged here, which includes most of the gadgets you will need for an outing, fishing, road trip etc.
Setting up the solar panel is easy. Just unfold it in an open area and connect your device. The unfolded dimensions are 64 x 15 inches, which is not bad. While it does take up some real estate, that's not a problem if you are outdoors. And the charge power you get is exceptional so the SuKingdom earns a place on this list.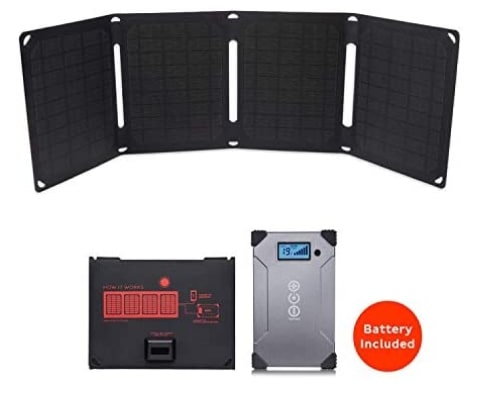 Charges laptops in less than 2 hours
Works with Macbook
Battery included
Monocrystalline solar panels
Water 7 UV resistant
2 year warranty
Voltaic Systems' Arc 20 takes solar charging power to the next level. The charger comes with a V88 battery pack for charging day or night, rain or shine, anytime, anywhere. Using Max Solar Technology, the Arc 20 optimizes charging for every device.
The Arc 20 is compatible with literally thousands of devices including laptops, Macbook, iPhone, iPad, Samsung Galaxy & other Android devices, GoPro, digital cameras, GPS etc. Just connect your device to the Arc 20 and the battery starts charging. The charge time only takes 2 hours for a laptop and 1 hour or less for a smartphone.
The solar panel has a 2 year warranty and the battery 1 year. Both are solidly constructed, waterproof, UV resistant, dust proof and sweat proof as well. These are monocrystalline solar panels, the best in the industry. It takes only 6 hours to fully charge the V88 battery under sunlight, underscoring how efficient it is. This is definitely for the off grid user who doesn't want to compromise.
For all its versatility the Arc 20 only weighs 3.2 lbs. There are several attachments so you can hook it up to your backpack, bicycle or other equipment. This is the kind of solar charger that is best suited for power users who demand versatility.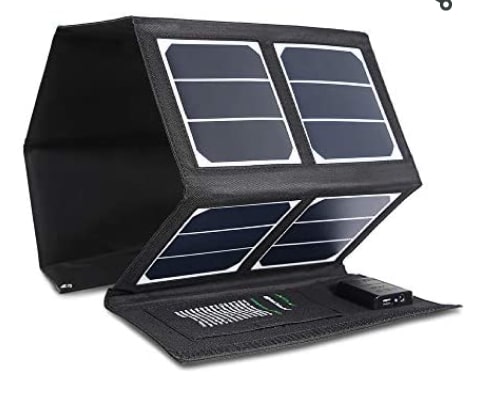 5 USB output
18V DC output
Auto resume charge
Foldable design
Waterproof
23.5% efficiency rating
The Kingsolar is a versatile solar charger for laptop, phone, tablet and other electronic devices. With 40W of power and a 23.5% efficiency rate, you can depend on the Kingsolar to keep your gadgets charged during camping, hunting or anytime you are on the road.
It has a 5V USB port and 18V DC port, just what you need for most gadgets. Charge time is quick and it takes multiple uses before the Kingsolar requires a recharge. You can charge two devices simultaneously, perfect if you got a laptop and phone. This solar charger can also charge portable solar generators and other solar power stations.
The panels fold conveniently so it does not take up a lot of space. It has a device current check to optimize charge speed and there is overload protection built in. The Kingsolar also has an auto resume function. Sometimes a solar charge stops when a cloud passes the panel, needing a full restart. With the auto resume the charge resumes from the point it left off, a real handy feature.
The Kingsolar is made from heavy duty PET polymer fabric and is waterproof. Hot or damp weather won't cause any damage. At 2.9 lbs and 13. x 7 x 2 inches folded (47 x 13 in open), this is the kind of charger you can take out into the wild. It is efficient, fast and durable.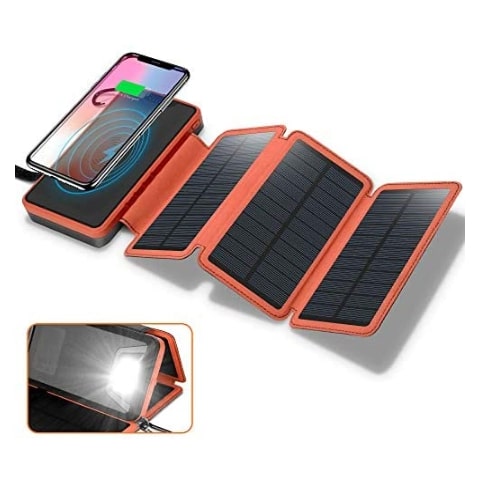 Li-polymer battery
Wireless charging + 3 outputs
IP54 waterproof
4 LED flashlight
Overcharge protection
ABS+PC construction
The NEXGADGET solar charger packs the essential features you need in a solar charger. Its capacity is sufficient for a laptop, iPhone, Android, tablet and other gadgets. With dual 2A outputs and 3 3A inputs, it makes for an ideal companion while hiking, fishing, camping, or the beach. You can just as easily take this to the office for hassle free charging.
There are 3 recharging options, Type C, micro USB and solar. It is compatible with QI wireless so if you've got a compatible device you can charge cable free. Charging on the other ports is faster compared to other solar chargers because of its efficiency. You can power multiple devices at once or just charge your laptop it's up to you.
There is flashlight included and also a carabiner for easy attachment to a backpack or bag. The NEXGADGET is made of composite silicon + PC + ABS so it is solid. It has a waterproof cover and is IP54 rated rain proof, making this an all weather solar charger. The temperature operating range is 0-45 C so you can take this just about anywhere.
As a Qi charger, power bank and solar charger, the NEXGADGET gets things done period. The wireless charge is handy if you have several gadgets, and having multiple recharging options is nice. The charger is also one of the most solidly built in its range and can hold its own.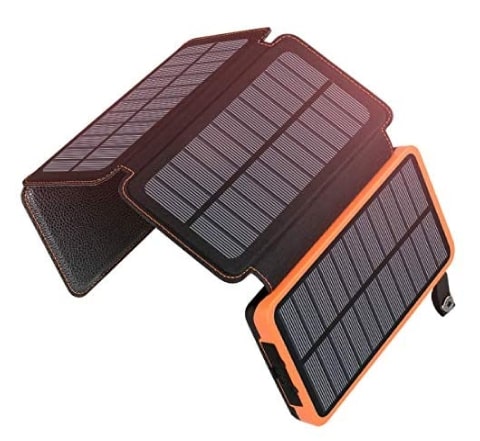 6W solar power
Dual USB
Waterproof
Shockproof
LED flashlight
1 year warranty
ADDTOP is known for their powerful solar phone chargers and this model ups the ante as it can also charge laptops with a USB A to USB C cable. You can charge two devices at once and the system has been updated to provide faster charges without compromising safety.
With its 25000mAh li-polymer battery, the ADDTOP is good for 3 laptop charges (including MacBook Pro). it can charge a tablet 3 times and a smartphone 8 times. For a more rapid charge you can use a Type C cable. Under peak sunlight the ADDTOP goes up 6W, which boosts speed for charging devices and recharging the ADDTOP itself.
You can charge a laptop and another device simultaneously without losing speed. Protection against overcharging and overheating are built in. The charger is waterproof so a bit of rain or water splash will not damage it. This is shockproof and dust proof so you can take this outdoors with confidence. It is solidly built without being bulky.
Its LED flashlight is one of the brightest in its class, and switching to SOS emergency mode is easy. Do you want to charge the ADDTOP on a wall outlet before going on a trip? There is support for that too. It is the multiple ports and recharging options that make this a quality solar charger for the outdoor enthusiast.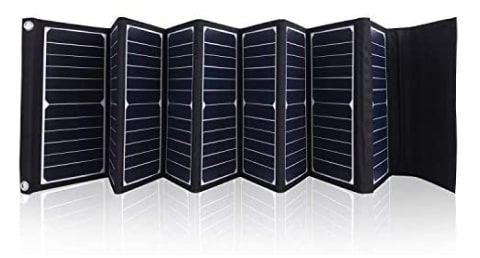 18V DC
5V USB
22% Efficiency
Foldable Panel
Dust proof
Waterproof
TOPDC made sure that this solar charger has everything that a would-be camper or hiker will need, nd then some. With 18V DC and 5V USB outputs it can charge a laptop, phone, tablet, camera, GPS and any other 5V and 18V device. As you might expect, the TOPDC allows you to charge two gadgets at the same time.
Its solar panel has a 22% rating, higher than the 15% you get from low low quality chargers. This translates to faster charges regardless of the gadget. Its IC Smart Technology senses the properties of your device and adjusts the charger speed for optimum results. Whether you use the 18V for your laptop or 5V for your gadget, expect reliable charges.
The TOPDC weighs 3.19 lbs and measures 12 x 7 x 2 inches when folded, very convenient and easy to carry. You can attach this on your bag for easy charging as you hike. Unfolded you can connect your laptop and let the TOPDC do the rest. Even in less than ideal conditions, i.e., cloudy day, you can still get a charge here.
The solar panels are made of PET oxford fabric, super tough material that makes it ideal for outdoor use. You can use this in diverse environments without fail. Speaking of use, a 10 in 1 DC connector is included so whatever your device is, you can probably charge it here.
Solar Laptop Charger Buying Guide
Finding a laptop solar charger is easy, but deciding which to buy is another matter. You have to consider a lot of factors that suit your particular needs. Here are some tips to help you out.
Watts (W) and Milliamp Hour (mAh)
Solar charger size is either in watts or watt hour (wh), milliamp hour (mAh) or both. Most laptops need 20 to 50 watts, or 20,000 to 50,000 mAh.
To convert watt hour to mAh:
WH x 1000 = mAh
To convert mAh to Wh:
mAh x V (voltage) / 1000 = Wh
If you have a 25000 5V solar charger, the formula is 25000 x 5 / 1000 = 125 Wh
The rule of thumb is to provide allowance for your needs. If you have a 30W laptop, get a 30W-40W solar charger so you don't push the charger to the limit. Having reserve capacity for your phone or other gadget is another reason for getting extra power. Bottom line: better to have more power than less of it.
Charge Options
Look for a solar charger that offers multiple ways to power your laptop. Ideally you should be able to charge with a solar panel, a wall outlet and a battery pack. Wireless charge is becoming increasingly popular too.
Charging with a solar panel is very common, but it should not be your only option. The other option is to use a power bank (battery) as it is fast and does not depend on sunlight. The solar panel charges the battery which you then use for your laptop. A wall outlet is the fastest option and should be done at home or if you're in a vehicle. Always charge your laptop to the fullest before going out.
Recharge Cycle
How long does one solar charger last? To put it another way, how many times can you use the charger before it needs to be recharged?
This is an important question especially if you're going on a long trip. High quality solar chargers can charge a laptop 2 or 3 times on a single charge. This means you can use it to power a smartphone, tablet or other devices numerous times.
Keep in mind that when the manufacturer says a device can charge a phone 8 times, a tablet 3 times, a laptop 2 times, it refers to one device only. That is, you can charge a phone 8 times or a laptop 2 times, etc. Charge time will also depend on available sunlight if you use solar panels.
Charge and Recharge Speed
Look for PD 3.0 support, which is the latest protocol for fast solar charging. Also look for solar chargers that can automatically detect a device's current and adjust the charge speed for best results.
Output
If you're only going to charge a laptop, a single compatible output is enough. But since you'll probably have your phone during camping (and you should), having another port is ideal. Most solar laptop chargers have at least 1 5V USB port and 1 18V DC port.
But most solar chargers have dual USB ports so it's not an issue. If you have several gadgets or have companions, a solar charger with multiple ports is necessary. Three ports is often enough, but if the charger has wireless support, you have four now.
Solar Charger Durability
A solidly built solar charger is a must. That device will be exposed to dust, rain, dirt, and other particles in the air. It will get a few bumps here and there as well. ABS and hard plastic are good while other manufacturers use proprietary materials.
A durable solar charger must also be shockproof, dust proof and sweat proof. A waterproof and rain proof charger is necessary too. Fortunately you'll be hard pressed to find a solar charger that isn't one.
Solar Charger Features
If a solar charger charges your laptop, what else do you need? A basic solar charger gets the job done, but it never hurts to have other useful features built in. Some of the more important are the following:
Flashlight
Most solar chargers have a flashlight which you activate by pressing a button. Aside from a steady light, most have an SOS mode, and some even have a strobe mode. You should always be prepared for anything when camping, so a flashlight with SOS is essential. A built in flashlight also means you don't have to pack one separately.
Carabiner
A carabiner or eye hole lets you attach the solar charge to a backpack. A lot of campers do this so they can charge the panels on the fly. Another benefit is the solar charger is within reach. No need to remove your backpack and unpack everything just to charge.
Rating Efficiency
The solar panel rating efficiency tells you how quickly your device can be recharged. Average solar panels have a 15% rating, but the best are in the 20% to 23% range. Do not settle for anything less than 20%.
Versatility
A good solar charger should be able to do more than just power a laptop. It must be compatible with popular smartphone models, GPS, radio, tablets and other electronics. The top laptop solar chargers are all in one chargers and also serve as emergency flashlights.
The level of versatility depends on your needs. Even if you only use a laptop and phone, it doesn't hurt to have a solar charger with a wide compatibility range.
User Friendly
A feature packed solar charger is useless if you cannot use it intuitively. A plug and play system is the best scenario, where you just plug your laptop and the charger goes to work. Any other extra feature should be easy to use.
Portability
The more powerful a solar charger is, usually the heavier. Portability varies from person to person, what is
portable for some may not be for you. If you carry a lot of stuff in your backpack though, every ounce counts. Charging a laptop requires more power than charging a phone, so expect these solar chargers to weigh more.
Warranty and Money Back Guarantee
Buy only from reputable websites and manufacturers. When you receive the solar charger, inspect it immediately and try out the features. Read the warranty and learn how long it is and what the coverage is. You should be able to get a refund if the product is not working properly..
Conclusion
Everyone has specific needs when it comes to laptop solar chargers. Some want maximum capacity, while others put premium on speed. Still others look for compatibility and others for multiple charging capability. Whatever you are looking for, the products reviewed here are up to the task, so you never have to deal with a low battery laptop again.

I am an advocate of solar power. Through portablesolarexpert.com I want to share with all of you what I have learned and cotinue to learn about renewable energy.