As an Amazon Associate, this site earns commissions from qualifying purchases. For more details, click here.
Look up the best solar panel kits for RV and you will find a lot of options. It does not have to be a confusing experience though, as we have made things easier for you. We compared the top solar kits and picked out what we believe are the top 10 for RVs. In making these reviews we compared each kit's components, design quality, usability and overall value.
One of the most frustrating things for someone new to solar is to figure out what components to buy. That is what a kit is for, an all in one solution so you don't have to make separate purchases. The only thing you have to buy is buy a battery and an inverter, though a few expensive kits have both. A buying guide is also included for your perusal. All right, let's get to it.
In a hurry? Here are the top 3
If you want to get on with it right away, here are the top e solar panels for your RV. You can scroll down to read more detailed of these products and the other ones.
| Best Overall | WindyNation 400W Complete Solar Kit |
| --- | --- |
| Best Value | Renogy 200W 12V Solar Starter Kit with Wanderer |
| Honorable Mention | Rich Solar 100W Monocrystalline Solar Panel |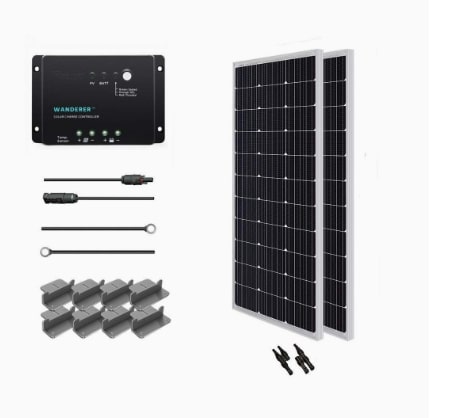 Monocrystalline solar panel
Up to 1000W per day
PWM charge controller
Expandable up to 400W
21% efficiency
8 ft 10AWG cable
The Renogy Starter Kit is ideal for RVers who want to try solar power for the first time. Do not let the "starter" term fool you. While the kit is designed for beginners, it is powerful enough for serious off grid use. The kit is suitable for RVs, boats, camping, cabins and other outdoor locations.
The kit includes two 100W monocrystalline solar panels, an 8 ft 10 AWG tray cable, a 20 ft 10 AWG cable, 30A PWM Wanderer charge controller, two Z bracket sets, MC4 Y connectors and the instructions. A polycrystalline solar panel kit is also available.
The solar panels have a 21% efficiency rating. Under optimum conditions they can produce up to 1000W daily for your RV. It charges a 50mAh battery up to 50% in 90 minutes or so, depending on how much sunlight is available. With the AWG cables you can hook up the panel to the battery and charge controller easily. Note that a battery isn't included.
The 30A PWM Wanderer Charge Controller allows you to expand the Renogy up to 400W, a great option if your RV needs more power in the future. This negative ground controller also comes with protection against overcharging, discharging, short circuit and overloading. Putting the Renogy solar kit together is easy and even a first timer should have no issues.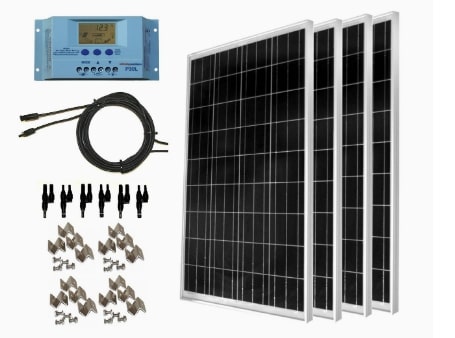 4 pcs 100W polycrystalline solar panel
1500W VertaMax inverter
30A charge controller
Up to 135ah/1600wh charge
40Ft 12AWG solar cable
2 AWG battery cables
Sometimes a simple solar power kit is not enough. If you live in your RV and power a lot of appliances, you'll want something heavy duty. This is what the WindyNation 400W Complete Solar Panel Kit is for. You have four 100W solar panels that can provide up to 1600W in ideal conditions.
The other standout here is the VertaMax 1500W inverter. Few solar panel kits come with an inverter, but this one does and it's a good one. With a 3000W surge capacity, the VertaMax can handle an AC or a refrigerator, though extra panels are required. The inverter also converts solar DC into AC for appliances eamlessly. A 30A charge controller is also provided to complete the set.
The controller takes care of the battery and the panel while the inverter converts the current. A couple of AWG cables are included for 12V battery hookup, and there is a 40ft solar cable bundled too. All the required mounting hardware and connectors are part of the kit.
If 400W is not enough power, you can add another 400W panel for 800W. But as it is, this 400W kit is ideal for a lot of RV owners. Even though it's powerful, installation is easy.
The dual 100W solar panels are monocrystalline, which provide the highest level of efficiency. 2 in 1 connectors are included for easy installation and also 16.4 ft 10 AWG cables. Combine this with the Z brackets and you will have no problem getting this ready on your RV. A 20A PWM charge controller is bundled for optimum charging.
The charge controller ensures the current going from the panel to the battery is maximized yet safe. An LCD display provides vital information. The durable controller also comes with dual USB ports. This are handy in case you want to charge something like a mobile phone or tablet. The temperature range is from -40C to 80C so you can use this in different environments.
The Eco Worthy solar kit provides all the tools you need to set up a solar station on your RV. The dual 100W panels work as advertised, and you can add more panels for even greater power on the road.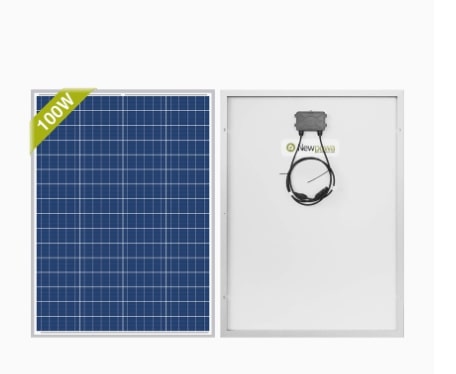 Heavy duty aluminum frame
12V polycrystalline solar panel
3ft MC4 cable
Snow load 54000PA
High wind 24000PA
25 year power output warranty
The NewPowa is an all-around solar panel designed for RV, marine use and other outdoor activities. Measuring 35.8 x 26.5 x 1 inches, this is a compact solar panel that will not occupy a lot of space on your RV. But it still packs a lot of power and has a high efficiency rating. The package includes MC4 connectors and diodes. The diodes are pre-installed and the connectors installed already.
The solar cells are encased in ethylene vinyl acetate (EVA) They are set between heavy duty TPT (tedlar polyester tedlar) and iron tempered glass. The low transparency glass, coupled with the TPT backsheet, provides a solid foundation for the cells. The solar panel frame is anodized aluminum for extra strength. You can combine this with other Newpowa solar panels in a series too.
Like any other 72 cell solar panel, you get the most out the Newpoa if there is nothing obstructing it. Output of course depends on the sun, but expect to get at least 4 to 6 amps daily with 10 hours of sunlight. The compact design makes mounting on an RV easy. The high efficiency rating allows the Newpoa to produce solar energy even during cloudy days.
You can connect the NewPowa to any compatible battery for charging. Combine it with a good sized inverter and you can run a lot of stuff in your camper.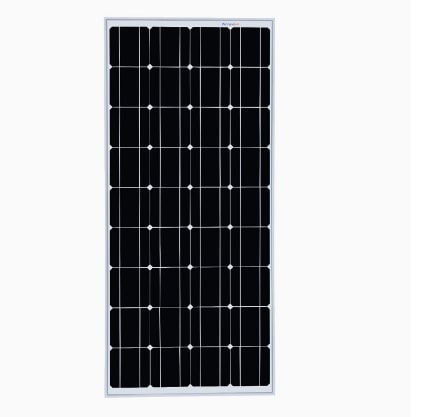 22-25% efficiency rating
Weather resistant solar panel
Flexible up to 30 degrees
0.12 inch thick
Weatherproof junction box
No screws needed for installation
Flexible solar panels are often considered inferior to rigid panels, but the WinnewSun aims to change that. This is a powerful 100W flexible solar panel with a 22-25% efficiency rating. Bendable up to 30 degrees, you can install this on irregular surfaces. It is suitable for RVs, boats, tents and other vehicles.
The panel is very sensitive to light so even under cloudy conditions you get solar energy. In ideal weather the efficiency rating goes sky high, perfect for campers. Installing the panel is super easy. It weighs only 4 lbs and is just .12 inch thick. Compare that with a regular solar panel which is an inch thick and weighs 20 lbs.
There are six eyelets in the panel for installation. There is no need for nuts, screws or bolts. You can use adhesives, Velcro, sticky tape, zip tie, 3M tape etc. Now you don't have to drill holes in your RV. Just apply adhesive and the panel sticks to the surface. Is your RV roof curved? No problem, just bend the solar panel and apply your desired adhesive.
The WinnewSun solar panel and junction box are weather resistant. You can expose the panel to sunlight, rain, strong winds and snow and it won't have an effect on performance. Lastly you can connect other solar panels for more power.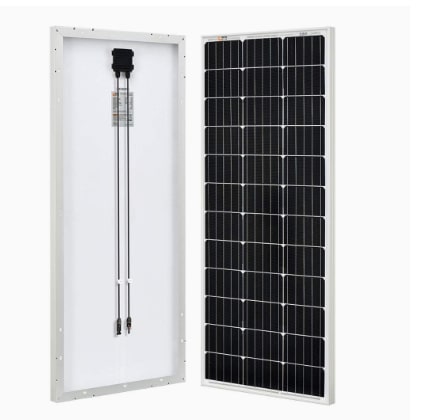 Up to 5.4 amp
Includes cable connectors
High efficiency panel
Z brackets and mounts included
25 year power output warranty
Easy parallel or series configuration
This durablesolar panel is built for versatility and is made for campers, vans, boats, trailers, cars and other vehicles and outdoor situations. The kit includes all the connectors necessary for installation. There are 14 holes pre-drilled for your convenience. You can install this on an RV, but you can also do a ground mount installation. The panel is compatible with off grid and grid tied inverters.
The 12V Rich Solar can produce up to 500W per day in ideal weather. There are bypass diodes in the system which reduce power loss. These power losses occur in cloudy environments or when something blocks the cells. With the bypass diodes this is reduced significantly.
The aluminum frame provides protection for the cell against corrosion. This panel is rated 5400Pa snow load and 2400Pa high winds, so the changing weather will not be a problem. These are monocrystalline cells for optimum results, and at 15 lbs, the Rich Solar is a compact but powerfully built solar panel for heavy use.
Performance wise the Rich Solar holds up well even during cloudy days. Any solar panel can produce energy with sunlight. The real test comes when the sky is overcast. While production is going to be lower, the Rich Solar holds up very well, better than most other solar panels for RVs.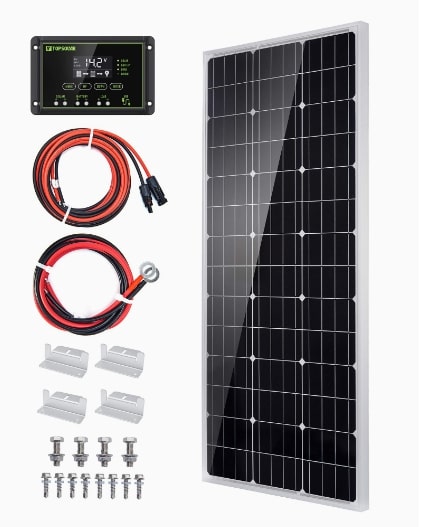 20A PWM charge controller
2400Pa high wind
5400Pa snow load
Expandable to 400W 12V / 800W 24V
Overload protection
4 pcs Z mounting brackets
The TP-Solar kit makes it easy to set up a solar panel for your RV. With a 100W solar panel, PWM charge controller, red and black cable, connectors and pre-drilled holes, installation is straightforward. You can also use the TP-Solar in trailers, boats and other off grid power applications.
The solar cells are in solid aluminum frame and made of durable tempered glass. The panel is rated 2400Pa and 5400Pa for wind and snow, so you don't have to worry about weather damage. The panel weighs 15.8 lbs and /measures 45 x 20 x 1.3 inches.
If 100W is not enough you can expand it up to 400W 12V or 800W 24V. Its 20A PWM charge controller has an LCD screen that provides system information. The controller provides protection for overloading, overcharging, short circuits and other problems that may arise during charging. There is reverse polarity protection so your battery is safe.
The TP-Solar is compatible with gel, flooded and sealed batteries. You can use it with deep cycle batteries and the connector is included. Putting the kit together is easy enough and the charge controller is solidly built. As long as you use a compatible battery there will not be any problems when you charge it. You can extend the power of the Rich Solar by linking to other solar panel.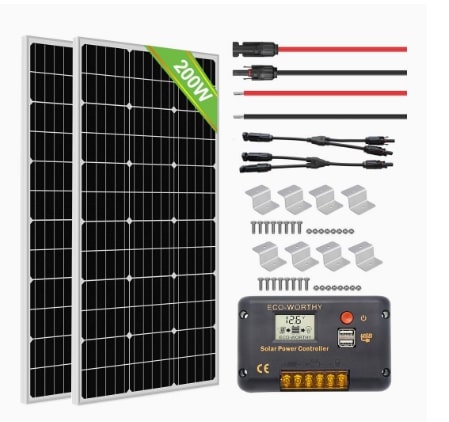 Two 100W monocrystalline panels
20APWM charge controller with LCD screen
Dual USB port for device charging
Up to 0.8kWh output per day
Cable connectors
16 AVG cable
Designed for use in homes, caravans and trailers, the Eco Worthy solar panel kit provides up to .08 kwh daily. This is enough to charge an 80ah battery and run various appliances. The kit includes 3 ft cables and Z brackets so you can quickly mount it on an RV roof.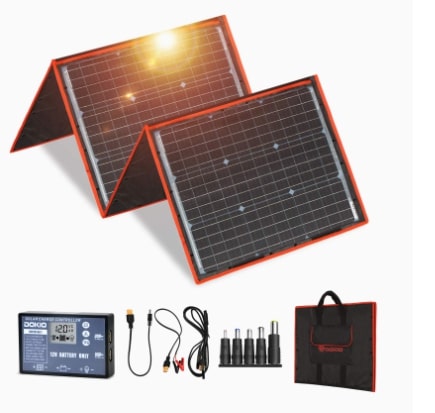 100W monocrystalline solar panel
Waterproof charge controller
Pre-wired for 12V battery
Battery clips
Overcharge protection
Stand included
The Dokio solar panels can be folded like a suitcase for easy carry and it even has a stand included. But while it is suitable for portable use, this kit has enough power for an RV. Its high efficiency monocrystalline solar panel can charge a battery for RVs, boats or campers.
The kit has a waterproof charge controller and it has overload and overcharge protection so you can charge batteries in peace. The controller is made of heavy duty material as is the stand. The solar panel frame is corrosion resistant and waterproof. These are features needed for RV use, and it is nice to see them here.
Installation is straightforward. Being pre-wired for 12V batteries makes things simpler for you. The controller is already installed so no need to set it up. The battery clips allow for quick battery connection. Put the clips on and the battery is ready to go. Once installed, the controller takes care of the charge. Aside from those mentioned, there is protection against open circuit, short circuit and overheating.
The Dokio packs some serious power for its relatively compact size. At 18 lbs and 21 x 26 x 2 inches, the panel is just the right size for a boat or RV. And because you can fold this into a suitcase, you can bring this solar panel camping with you.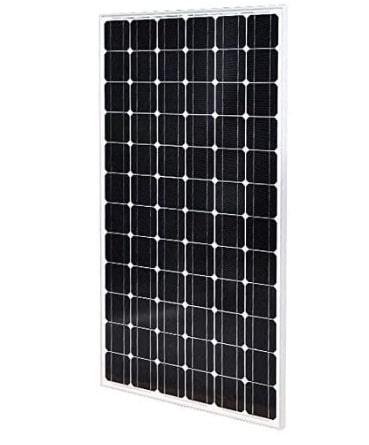 20A LCD PWM charge controller
200W monocrystalline solar panel
Pre-drilled installation holes
Controller dual USB ports
Corrosion resistant frame
25 year warranty
The Sun Gold Power 200W solar panels are built for all-weather use and diverse locations. The aluminum frame is corrosion resistant and waterproof, and the solar cells are optimized for maximum efficiency. The panels can be installed on RVs, house roofing, boats, campers etc.
The pre-drilled installation holes take away the drudgery of setup for RVs. The Z brackets are waterproof, dust proof and corrosion resistant. The connector extension cables are ROHS compliant and TUV certified. The male and female connectors are made of hard plastic. From the solar panels, connectors and brackets, all are designed for outdoor use. The same can be said for its charge controller.
The charge controller protects against over discharge, overcharge and charge recover voltage. The controller includes two USB ports and designed for use with USB devices. The controller automatically senses if you are charging a 12V or 24V battery and makes the appropriate adjustments. All the essential information is available on the LCD display.
The solar panel has no problems charging various batteries, and putting everything together doesn't take long. There is sufficient power here for long time solar power users, but it is simple enough for a newbie in solar power to install it. Apart from the panel and controller, the brackets and connectors really stand out for their durability and dependability.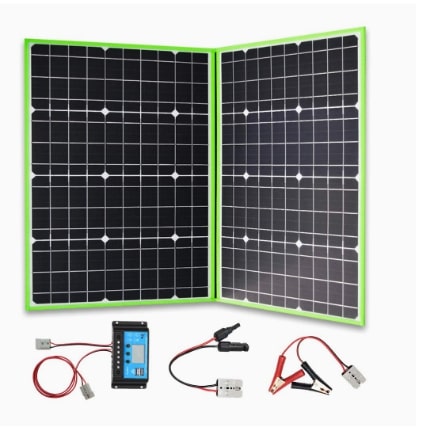 2 pcs 100W flexible solar panel
20A charge controller
Waterproof
Cable and alligator clip
2 in 1 parallel connector
Lead acid and lithium ion compatible
This solar system kit shows that flexible solar panels are capable of providing a lot of power. The flexible panel allows for installation on uneven surfaces, so you can use the panel for RVs and also camping in different locations.
The 20A charge controller includes a USB output for convenient device charging. it is compatible with lead acid and lithium ion batteries, a huge plus if you plan on switching batteries in the future. With a temperature range of -40 to +60C, you can assemble and use the kit in just about every conceivable situation. The controller protection list include reverse, open circuit, short circuit and overloading.
A PV connector, cable with clip and a 2 in 1 parallel connector completes the package. It comes with all the stuff required to set up a solar panel on your RV, and the directions are easy to follow. This kit is also available in 300W, 400W, 600W, 800W and 1000W sizes. If you need more power for your RV, you can get those other variants.
While this solar panel runs fine on RVs, it is versatile enough for other vehicles. With the flexible solar panel, it provides you more options in deciding where to install it. Despite the flexible design, the panel is surprisingly strong, great for long term use.
RV Solar Panel Kit Buying Guide
Before you buy a solar power kit, there are several features you have to look into. What one RV owner requires may be different from yours. Here are some pointers to help you get started.
What Components Do You Need?
Most solar kits consists of a solar panel, charge controller and the wires & cables needed for installation. Some kits include an inverter like the WindyNation we reviewed here, but most do not. A bundled inverter is going to cost more but you no longer have to make a separate purchase.
The disadvantage of having the inverter bundled is you are stuck with its capacity. If you decide to use more appliances in the future, you have to replace that inverter. If you do opt for a complete kit with inverter and battery, make sure it is more than your current needs. This way you can still use the kit if your solar power needs expand.
The next step is deciding what specific features you want from the components. Again this varies from case to case, so take into account your specific needs.
Solar Panel Size and Watts
Solar panels come in fairly standard sizes so it should not be a concern. Unless you have equipped all sorts of devices on you RV roof, there is plenty of space available. Tip: the space near the refrigerator vent should be free, as that is the best spot to install a solar panel. You can easily put the cable through the opening instead of drilling a hole.
For wattage, 100W is the minimum for most. as it is just enough to charge a battery. You use the battery to run small devices and recharge the battery with the solar panel. You cannot run a lot of devices on the panel alone. For extra power you can upgrade to 200W or more.
You can remove the guesswork by estimating how many solar panels you need. Once you have the number, you can look for a kit that meets your requirements. As we mentioned earlier, you have to make room for energy losses and cloudy days.
The other thing you will come across is the monocrystalline vs polycrystalline debate. The long and short of it is that mono panels are more efficient. that is why you see it bundled in more kits these days. This does not mean poly panels are no good. They can be effective too under ideal conditions. If the weather is favorable in your area, poly panels can deliver just fine, though mono are superior.
Charge Controller
Charge controllers are almost always included with solar power kits. You don't have to worry about compatibility in this case. Useful features to look are:
LCD display: makes it easy to keep an eye on all the pertinent data. If there is a dip in performance or system error, it will appear here.
USB port: this will be useful if you have several devices. Just plug it in the controller and let it charge. You can never have too many USB ports especially if you share the RV with others.
Safety protection: at the very least the controller should offer protection from overcharge, overheat, recover discharge and short circuit.
PWM or MPPT: MPPT is more efficient, but it is also more expensive. They are not yet widely sold in solar power kits. For now PWM controllers are more commonplace and they do the job fine. A PWM charge controller works great for RVs.
Mounting Hardware
Z brackets, male and female connectors, AWG cables etc. These are the stuff you need to put the solar panel on your RV. All solar kits include hardware, but vary in comprhensiveness. The more complete the connectors, the better. It can be time consuming to find a connector or cable suitable for your RV setup.
Expansion
This is related to the point above. You will notice the solar kits we reviewed can be expanded so you can connect additional solar panels to increase power. If you're new to solar power, a 100W panel may be sufficient. A 100W panel can charge a battery and you use the battery to run your devices.
But if you want to run more devices and appliances, 100W will not be enough. That is where expansion comes in. Most solar panels can be expanded to 200W, 300W, 400W etc. The limit varies per product so you have to check that out. The only limitation is space availability on your RV .
Ease of Installation
You can determine this by reading product reviews and checking the hardware included. If the essentials like Z brackets, connectors etc are bundled, set up should be smooth sailing.
Conclusion
Deciding what solar power kit to get for your RV is not to be taken lightly. You will invest not only money but time, which is why we tried to be as comprehensive as possible in the reviews. Hopefully the information has been able to help you make the right decision and start using solar power. Good luck and happy road trips!

I am an advocate of solar power. Through portablesolarexpert.com I want to share with all of you what I have learned and cotinue to learn about renewable energy.