As an Amazon Associate, this site earns commissions from qualifying purchases. For more details, click here.
Solar panels are no longer just for big houses. Nowadays you can mount them on your RV or carry in your backpack. But the question remains: what is the right portable solar system to buy? There are a lot of products available and deciding what to purchase can be confusing for a new buyer.
We have answered that question for you in our roundup of the top 10 best portable solar panels. Whether it's for your RV, boat, emergency power or camping, we have covered them here. We also have a buying guide to help you in case you want to take look around at what else is available.
In a Hurry? Here are the Top 3
If you don't want to go through the reviews, here are our top 3 picks. For more details, you can read the detailed reviews that follow.
| | |
| --- | --- |
| Best Overall | Jackery SolarSaga 100W |
| Best Value | WindyNation 100W Solar Panel Kit |
| Honorable Mention | Goal Zero Boulder 100 Briefcase |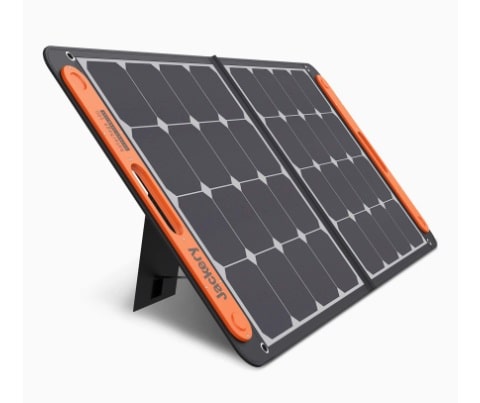 2 USB ports
DC output surge protection
Overcharge protection
Short circuit safety mechanism
100 watts
11 lbs
The SolarSaga offers flexibility without compromising power. Folded, the panel is a tight 26 x 22 2.5 inches, making it easy to carry anywhere. The SolarSaga is also compatible with the Jackery Explorer 160/240/500/1000 power station for seamless power scaling. Folding and unfolding is easy and the case has a smooth feel.
There are two USB port outputs (5V 2.4A and 5V 3A) so you can charge smartphones, tablets, digital cameras, GPS and other mobile devices. For campers and backpackers, it's a great solution for the dreaded low battery signal on your phone. Charge time is quick and with the USB ports it is just a matter of plugging in your device and it's a go.
What really makes the SolarSaga stand out is its 23% conversion efficiency. Other portable solar panels top out at 21% or even less, so this translates to more power. The high conversion rate is maintained even in hot weather, something other solar panels cannot do. The operating temperature range is -10 C to 65 C, impressive.
The SolarSaga takes just a couple of minutes to set up. With enough juice for laptops and other devices, it just makes off grid living that much easier. Whether you're a backpacker or you want to go solar in your RV, the SolarSaga does what you expect it to, and more.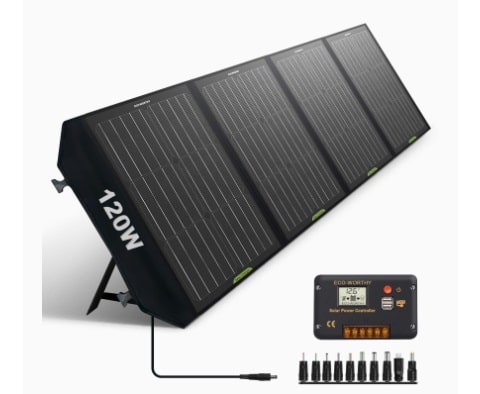 Pre-wired for 12 volt battery
Humidity resistant
Folding panel
Charge controller pre-installed
Corrosion resistant
28 lbs
The Eco Worthy is a good example of what a portable solar panel should be. The solar panel folds and unfolds with ease so you can charge and pack up without any hassle. The included clips allows for easy connection to the battery and you're all set. At 120 watts there is lots of power here to meet the needs of campers, RVers and boat enthusiasts.
A PWM 15 amp charge controller is pre-installed. It does a good job of protecting the system against overcharge, overheat, overloading and other problems that may occur during the charge. The panels are high quality polyccrystalline for maximum output. The aluminum frame is resistant to corrosion and its legs look very durable.
The panel folds like a suitcase and you can carry it like one thanks to the durable handle. The convenience doesn't end there as it is pre-wired for 12V battery charge. All the complex features have been pre-configured so the panel is easy to set up whether you're camping, in an RV, caravan, etc. And there is a 9 ft long cable so you don't have to buy a separate extension piece.
Solar panel performance ultimately depends on the sun, but the Eco Worthy certainly has the specs to give you the best results. With an intuitive design and robust built, this is a portable solar panel you can depend on.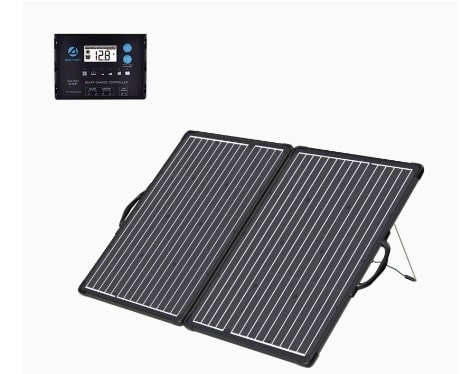 Charge controller
Works with gel, sealed and flooded batteries
Generator and battery ready
Includes 10A charge controller
Folded dimensions: 19 x 25 x 3 inches
33 lbs
The UV11007GD is a complete solar kit, with two high efficiency 50W monocrystalline panels for maximum sunlight drawing power. Its charge controller is also optimized to ensure superior performance of the entire system. And it's versatile enough to be used as a generator, a battery or both.
The MC4 connectors make set up a breeze, and you can use these to add other solar panels up to 40W. The alligator clips ease charging of any of the supported battery types. The UV11007GD also supports both marine and 12V car batteries and you can charge simultaneously. The stand is already installed and mounting brackets are not needed, so getting this to charge is straightforward..
Set up takes less than 60 seconds, mainly because it comes with all the essentials like the fuses, junction box diodes, MC4 connectors and Anderson plug. The aluminum frame is light but durable, and there are latches and a handle for easy carry. And at 33 lbs it isn't that heavy given all the stuff included.
Some newcomers to solar power are hesitant to buy kits because it looks overwhelming. ACOPOWER put a lot of thought into this product, as it is one of the most intuitive and easy to assemble kits available. A breeze to set up and dependable, it's a good combination.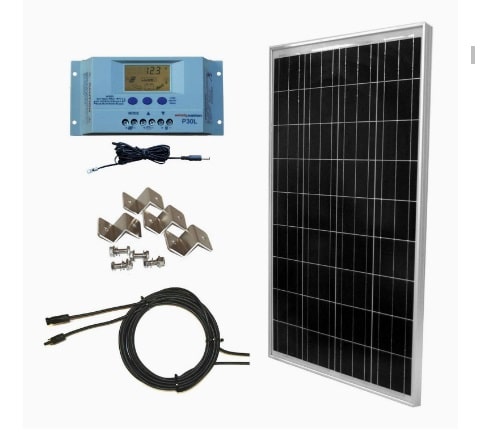 LCD screen with system information
Can be linked to other solar panels
Mounting hardware
Includes 40 ft cable, connectors
PWM charge controller
19 lbs
WindyNation calls this a complete solar kit and they are not kidding. You get the mounting hardware, all required connectors, a 40 ft 12 AWG cable, charge controller and the solar panel. Once set up you can use this in an RV, boat, cabin, camping, hiking, even military use, etc.
The 100W solar panels have superior efficiency rating, capable of 350 watt hours in ideal conditions. With the charge controller you can expand the system up to 8 additional 100W solar panels (24V) or 4 extra 100W panels (12V). On its own or boosted by additional solar panels, expect clean, efficient and dependable energy. Don't worry about how to add more panels as the process is clearly explained in the manual.
Its PWM charge controller is completely adjustable. The readout is easy to read and that's good because there is a lot of information here. Everything from the temperature, load, amp hours, volt etc are available. With a single glance you can tell if the system is running in optimum condition or not. Even with all the info, everything is presented clearly.
The scalability makes the WindyNation 100W perfect off grid. Adding extra solar panels is simple enough and the instruction manual is easy to follow. The solar panels provide good output and the charge controller complements that with all the essential data.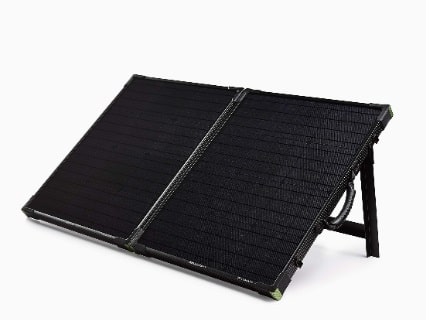 Goal Yeti compatible
Foldable
1 year warranty
Tempered glass built
High efficiency monocrystalline panels
25 lbs
The Boulder 100 lives up to its billing as an all purpose solar panel for RV, camping, off grid adventures and emergency use. At 40 x 26 x 1.75 inches, the compact design is well suited for campers. The Boulder is compatible with the Goal Yeti Power Station and doesn't need a charge controller. Just plug into the Yeti and it' charges.
The high efficiency panels are made of tempered glass and built for heavy duty use. Because it's aluminum the panel is light to carry but durable enough to withstand the elements. The handle is nicely designed and comfortable to use. A carry case is included to protect the panel. Also worth pointing out is the kickstand as it's easy to adjust to meet your requirements.
The bundled wire is long enough so you can keep your device under shade while the panel is charging. Two things really make the Boulder a terrific product. The first is the construction, as it is just solid. The panels feel robust, the stand is durable, everything about it feels polished. The other is its seamless compatibility with the Yeti. It is literally plug and play to do a charge. If you have a Yeti or plan to get one, the Boulder is a perfect companion.
Bottom line: the Goal Zero Boulder is a solid solar panel and works well enough for almost any portable solar power need you have.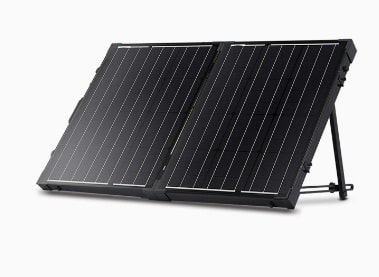 Waterproof solar panel
Waterproof PWM charge controller
Corrosion proof
Compact, foldable design
Works with lithium ion, AGM and lead acid batteries
Weighs only 25 lbs
The Renogy 100W monocrystalline solar panel is ideal for camping, boating, off grid living or additional power for grid tie systems. The package includes the solar panel, charge controller, a generous 10 foot cable and alligator clips.
The controller is already hooked to the panel so no need to configure it. The controller is well designed and does a good job of optimizing battery charge. The 12V panels are monocrystalline, which is more energy efficient than other panel types. Add the waterproof controller and the Renogy 100W is well suited for the outdoor enthusiast.
At 25 lbs, the panel isn't heavy at all. Folded, the Renogy 100 is a compact 19.9 x 27.2 x 2.8 inches. The aluminum stand is corrosion proof and holds up well to heavy use. The charge controller has a detailed LED bar and the LCD screen provides system information. Any error message will be displayed here as well.
The alligator clips tray table makes it easy to connect to batteries. And speaking of which, the Renogy supports 7 types of solar batteries, including lithium ion, GEL and lead acid. The latches and handles are solidly built as well. For portable power needs, the Renogy 100W is an excellent choice. It is easy to use and setting up in an RV is straightforward too.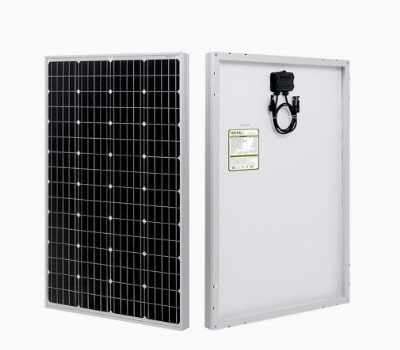 Smart 4 Stage PWM controller
Plug and Play design
Travelling bag included
Aluminum stand
27 lbs
Folded dimensions: 20 x 27 x 3 inches
The HQST solar suitcase puts premium on portability and power. The plug and play system makes charging easy for camp, RV or boat use. The 100W high efficiency monocrystalline panels can be folded for convenient storage, and setting up is just as easy with the traveling bag and the aluminum stand.
The Smart 4 Stage PWM charge controller is built for 12V/24V systems, and you can use gel, FLA or AGM batteries. There is built in temperature compensation so there is no performance degradation even with long term use. The entire system is optimized for maximum battery life. The advanced system also provides protection against overcharging, reverse polarity and short circuit.
The charge controller has an LCD screen so you can check the power situation anytime. A table with alligator clips is included for easy connection to the battery, and the case is built for protection. Setup only takes a few minutes, and with the LCD screen you'll know right away if something is amiss.
The aluminum stand is durable, resistant to corrosion and well suited for outdoor use. It is adjustable so you can set up your solar panel just the way you want it. The handles and latches are typical of HQST, solid and made for long term use.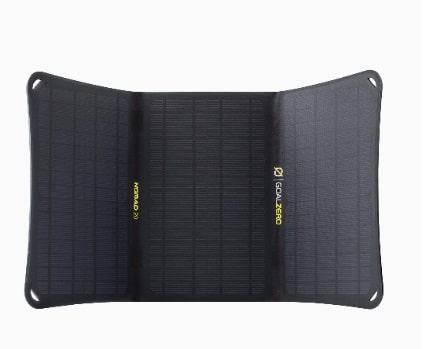 Adjustable kickstand
Charging cable included
USB port
Monocrystalline panel
1 year warranty
2.2 lbs
The Nomad 20 is a lightweight solar panel that is tailor made for backpacking. At just over two pounds, you can easily attach this on your backpack for on the go charging. Hike along your favorite trails and the panel gets exposed to the sun, charging it. When your phone runs low on battery, just hook it up to the Nomad 20 and watch it charge.
At 20 watts the Nomad is suitable for small and medium devices. Under ideal conditions the Nomad 20 takes just a few hours to charge a phone. The foldable design makes it even easier to store in any bag. A charging cable is included for convenience, and the kickstand is fully adjustable. You can adjust the kickstand up to 180 degrees for easy setup.
The USB port is well situated so you can plug in any USB device. Most will use this for mobile phones, but any USB device within its capacity should run fine here. One of the things that makes the Nomad a good choice is its rapid charge. Compared to other 20W solar chargers, the Nomad has faster powering times. if you're a backpacker this is certainly welcome news.
Of course for many the biggest draw here is the weight. Nobody likes to carry a heavy backpack while hiking, so the Nomad 20 is welcome. It won't slow you down as you hike, and neither will waiting for your phone to power up..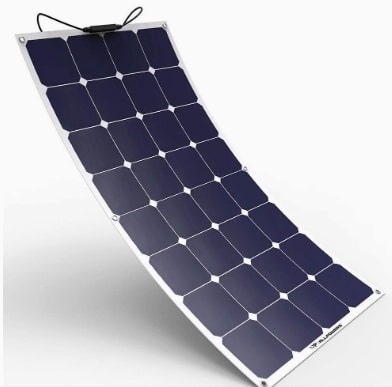 Works on irregular surfaces
23.5% efficiency rating
Waterproof junction box
Water resistant design
18 month guarantee
4.7 lbs
The ALLPOWERS SunPower solar panel can be bent up to 30 degrees, making it easy to mount on uneven surfaces. Whether it is for RV, caravan, car, boat or trailer, you've literally got more flexibility when it comes to installation. The panel is less than five pounds so it's quick to set up and pack up. There are 4 openings in the frameless construction for easy mounting.
One of the criticisms against flexible solar panels is fragility, but SunPower is an exception. The panel bends easily but it won't break. The material is water resistant and is stronger than aluminum. Add the waterproof junction box and you've got a solid solar panel system. Flexible solar panels are going to be exposed to the elements so they must be durable, and the SunPower fits the bill.
Durability aside, the SunPower's biggest selling point is its efficiency. The higher the efficiency rating, the more solar energy is absorbed by the panel. Most portable solar panels have an efficiency rating of 17%-19%, but SunPower has a 23.5% rating. Under ideal conditions this translates to significantly more power. Even during cloudy days, the results will be better compared to other flexible solar panels.
The SunPower is 5% thinner than the average flexible solar panel and is 70% lighter. Yet it provides more power and has a higher efficiency rating than most. And it's versatile enough to be used in various outdoor settings.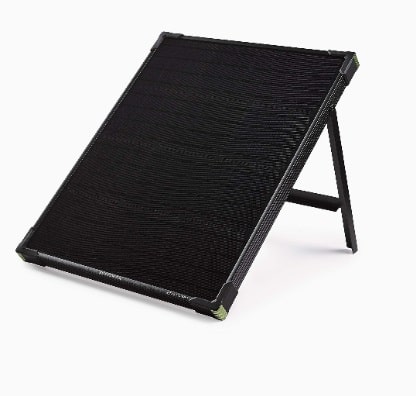 Power expandable to 150 watts
Kickstand included
1 yer warranty
Lightweight
Weatherproof
11 lbs
Do you want a portable solar panel to recharge your device, but don't need the power of 100W+ systems? The Boulder 50 watt solar panel could be what you're looking for. It has enough power to charge tablets, mobile phones, and other devices used for camping and backpacking. And you can also always link it up with other boulder products for up to 150 watts of solar power.
As a solar panel the Boulder 50 delivers the goods. The tempered glass cover and aluminum frame makes it weatherproof. The panel will be exposed to all kinds of weather so this weatherproof design is essential. Even so the panel remains light and isn't a burden to carry around.
The Boulder 50 recharges the Sherpa Power Packs and Yeti Portable Power Stations with ease. No need for a charge controller here, just plug the Boulder into the Yeti or Sherpa and charging starts. And if you need more power you can easily connect the Boulder 50 to other Goal Zero systems even without cables. if it is Goal Zero or Sherpa you just insert the connector and the sun will do the rest.
The no frills kickstand is easy to adjust and remove if you want to mount the panel. Taking everything into consideration, the Boulder 50 presents an ideal solution if portability is paramount but you don't want to give up power.
Portable Solar Panel Buying Guide
Deciding what portable solar panel to buy can seem overwhelming especially if you have never bought one before. Fortunately, choosing what to buy is easier than you think. It all comes down to knowing what you will use the solar panels for.
What Devices and Appliances Will You be Using on the Solar Panel?
Will you be using it to charge mobile phones, tablets, LED lights, maybe a radio, GPS or a laptop? Portable solar panels can handle that, though not all at the same time and only for limited periods. It depends on the size (watts) of the solar panel. Of course you can always increase the power by chaining multiple solar panels.
How Long Will You Use Each Device?
The more appliances and devices you want to run simultaneously and for long periods, the more power is required.
If you're going to camp for a couple of days and charge only a phone, laptop and lights, a 100W+ solar panel will be fine. If you're going to camp for 3 days or more and run several appliances, you have to calculate how much solar power you need.
There are solar calculators available, but it's easy enough to do it yourself.
Add the total number of watts used by each device you will use.
Multiply each device watt total by the number of hours you expect to use them.
Add the total and that should give you an idea what solar panel size you need.
If you're a heavy solar power user, you'll need a battery to pair up with the panel. With a battery you can still run your devices even when the sun goes down. You should get more power than your computations show you'll use, just to be safe.
To find out what battery size you need, go on a trip in your RV. Run all the appliances like you normally would. Check how long it takes before the battery needs to recharge (for lead acid that is at the 50% level, for lithium ion it is 35-40%).
If your 100 amp hour battery runs out, you need 200 amps to last a day. Remember you'll only get to use 50% of its capacity (for lead acid), so get extra power.
How Important is Portability to You?
If you're a backpacker, there are plenty of solar panels that weigh less than 5 lbs. A flexible solar panel is a good option as you can fold and carry it like a briefcase. You can also strap the solar panel on your backpack and it will charge as you hike. For hikers and backpackers, there are a lot of options you can buy. Since you're likely to carry only a few gadgets, power isn't an issue.
If you have an RV, the best option is to install 100W to 200W solar panels on the roof. This provides your vehicle with plenty of power to run several appliances without taking up space. These panels are also suited for emergency power.
A flexible solar panel is preferable for backpackers, but for RVs it is not required. RV solar panels should have aluminum or steel frames, waterproof, corrosion resistant and not too heavy. There are portable solar panel kits for RVs that include the inverter, controller and other necessary components. The battery needs to be purchased separately.
How Long is the Charge Time?
Solar panel efficiency ratings range from 17% to 25%. The higher the rating the better the output. But rating isn't the only factor as size (in watts) matters. The higher the wattage the more powerful the solar panel is. Portable solar panels usually max out at 300W but you can link multiple panels for more power.
All solar panels can produce sunlight during the summer, but during cloudy days, that's where quality solar panels distinguish themselves. High quality solar power systems can still produce electricity though not at the same level during sunny days. That's why you have to buy solar panels with solid specifications.
What Features to Look for in a Portable Solar Panel
The following are some of the most important features you may want to consider before buying. Remember that it all comes down to what you need.
USB Ports: the solar panel should have at least one USB port to charge your phone, laptop or other USB compatible device.
Weatherproof: you'll be exposing the solar panel to different kinds of weather, so it must be prepared for it.
Waterproof: waterproof / water resistant is essential if you're going to use the solar panels in a boat or anywhere near rivers, streams or bodies of water.
Kickstand; a solidly built, adjustable kickstand makes setting up easy.
MC4 connectors and wires: the package should include all the required connectors, wires and cables.
High Efficiency Rating: the higher the rating the better.
Flexibility: this is optional. For hiking and backpacking it definitely helps. If you have a vehicle it may not be as necessary but it's still convenient.
Warranty: the longer the warranty, the better.
Conclusion
Portable solar panels let you enjoy outdoor adventures without giving up every day comforts. If you have been holding back because you're not sure what to buy, hopefully the reviews presented here was able to help. Happy adventures!

I am an advocate of solar power. Through portablesolarexpert.com I want to share with all of you what I have learned and cotinue to learn about renewable energy.