As an Amazon Associate, this site earns commissions from qualifying purchases. For more details, click here.
Are you looking for an alternative power source that doesn't produce noise or fumes? That's what this list of the top 10 best portable solar generators is for. Portable solar power stations have become popular as they function like gas generators but without the fumes, noise and cost that come with those products. With solar, you get the power you need without pollution.
Without further ado we present the top 10 portable solar power stations. We have gone over the major features of each one and compared the most important specs. After going through several solar generators, the following stood out from the rest.
In a Hurry? Here are the Top 3
If you don't want to go through the entire review, here are the top 3 choices. For more details about each one and the others that made the top ten, keep reading!
| Best Overall | Goal Zero Yeti 400 Portable Power Station |
| --- | --- |
| Best Value | Renogy Phoenix Portable 150W Solar Generator |
| Honorable Mention | Jackery 240W Portable Power Station Explorer |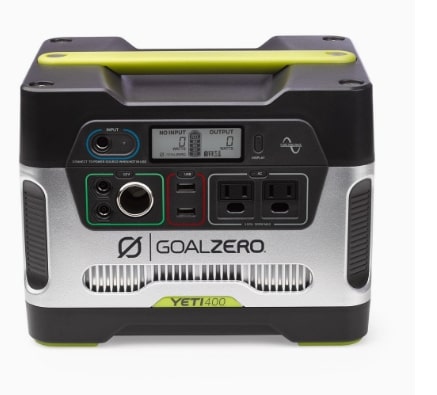 7 devices can be plugged at once
2 USB ports
600 watt surge
300 watt continuous
400 watt capacity
Chainable to 33Ah lead acid batteries
Goal Zero is known for their quality portable solar generators and the Yeti 400 is one of their best. It's light enough to charge laptops, mobile tablets and lights, but with power for use off grid. The Yeti 400 works as a home emergency backup power or a main power source in an RV, boat or camping.
Its 33Ah@12V lead acid battery and 396 watt hour capacity can run lights, mini fans, GPS, phones and small appliances for hours. There are outputs for 12V, AC and USB so you can charge your favorite devices at the same time. A 600W surge pure sine wave inverter and 300W continuous capacity translates into a dependable source.
Being able to plug 7 devices at once is a huge plus especially if you use multiple gadgets. The inverter ensures clean, safe charging. There are 3 ways to recharge the Yeti 400, through Goal Zero's monocrystalline solar panels (8 hours), a car charger (13 hours) and the included AC charger (5 hours). The 12V charger and solar panels are sold separately.
An input / output calculator simplifies solar panel orientation, and the LCD shows how much power you use at a glance. Want more power? Just chain the Yeti to other 33Ah lead acid batteries for continuous use without recharging.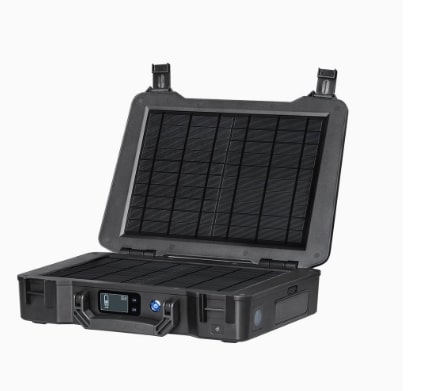 Compact design
All in one kit
Lithium ion battery
Multiple ports
Monocrystalline solar panel
20 watts
150W continuous power
The Phoenix is a true all in one kit, with a 17.1 lithium ion battery and monocrystalline solar panel. You can fold the Phoenix and carry it like a suitcase, and unfold when it's time to use. The 20W solar panel can charge small devices like mobile phones, lights and GPS quickly. With its lithium ion battery you have access to even more solar power for other devices.
You can link additional solar panels up to 100W, perfect if you're camping for a few days or want an emergency backup power source. Operating temperature range is 0-45C and there are AC, PV and CIG charging ports on the side. DC and USB ports are built in so you can charge your favorite electronics without a fuss.
With its multiple ports and charge options, the Phoenix is well suited for remote areas, RVs, camping and road trips. A LED flashlight is included and in spite of the power, you can carry the Phoenix comfortably with one hand.
Production quality is superb, as you'd expect from Renogy. Setting up is simple enough and all the cables and adapters are provided. The build is solid and is ideal for home use or for extensive outdoor use. For many, the inclusion of the solar panels is a big plus as that's often a separate purchase.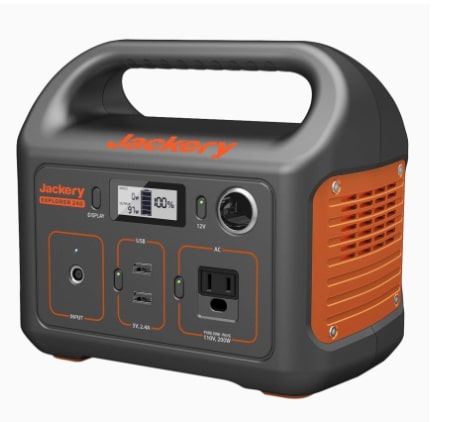 240 watts
Lithium ion battery
2 USB A ports
Jakcery SolarSaga compatible (sold separately)
Pure sine wave inverter
DC car port
The Jackery Portable Power Station is for outdoor enthusiasts who like tailgating, camping, RV, hiking and travel. The Jackery is a full featured solar generator with a pure sine wave inverter and optional solar panel. What this means is you can use the generator for your outdoor summer adventures.
This lithium ion battery pack has a 240wH (14.4V, 16.8aH) capacity, enough for laptops, phones, portable radio and small appliances. A car charger adapter is included as well as an AC adapter. The handle is comfortable to hold and it's just 5 lbs. The pure sine inverter protects your devices during charge and ensure the best -and safest- possible results.
As long as a device needs less than 200W the Jackery can charge it. If drawing under 30W, the system automatically shuts down after 6 hours to save power. This is a lithium ion battery so it's safe to use inside your tent, house, camper, caravan, or RV. The unit runs quietly too so no need to put up with a noisy generator during the day or night.
The generator is compatible wit the Jackery SolarSaga 60/100 solar panels. This comes as no surprise, so if you're looking for a solar panel to pair with this generator, that's a good choice. Performance wise, the Jackery more than lives up to the hype.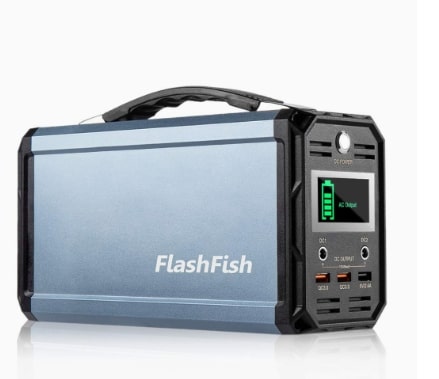 60000mAh capacity
200W continuous power
350W peak power
USB ports
Pure sine wave inverter
Built in overcharge protection
The FlashFish weighs only 5.7 lbs, but offers more capacity than most other portable solar generators out there. With a 350 watt capacity, this solar generator can run a 32 inch Samsung TV for 4 to 6 hours. Or you can run a gaming console, UAV, mini fan or a bass guitar amp. Through it all the FlashFish doesn't make a sound.
To put it another way, 350W is enough to operate a 30W light for 80 hours, charge a 5W phone 20 times, run a 40W mini fridge for 7 hours, charge a 14W GoPro 60 times and fly a 90W drone 3 times. You can run a 15-45W projector for 8 hours, a 20W electric guitar for 20 hours, charge a 60W laptop 7 times and do film studio photography.
Its 3 USB ports charge quickly for phones, Bluetooth speakers, cameras and other devices. The 12V car charger and 110V AC adapted are bundled with the product. The FlashFish is also compatible with 100W solar panels though they're not included. With a 60,000mAh battery, you can charge a laptop and other camping gear.
If you need more power than the average portable solar generator, the FlashFish is definitely worth a look. It packs a lot of power in spite of its light weight. The carry handle is solid and is compact enough to place anywhere in your vehicle.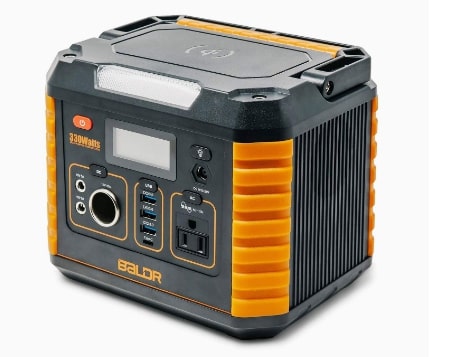 CPAP ready
Compatible with 100W solar panels (not included)
Multiple charging options
3 USB ports
Short circuit protection
Pure sine wave inverter
The BALDR is an all around portable power station for camping, RV, backup power and device charger. Its 297Wh capacity means it can run CPAP machines, tablets, GPS, notebook computers, lights, GoPro, mobile phones, drones and other small appliances. The BALDR has a 2 year warranty, a 30 day refund guarantee and 24 hour customer support.
3 USB ports are included for electronic devices and also a 12V car port, 2 12V DC ports and an AC power socket. An advanced BMS (battery management system) provides protection against short circuits, overheating, overloading and overloading. A LED SOS can be turned on in an emergency. A flashlight and wireless charger are included too.
The BALDR can be charged with any 100W solar panel (not included) or a 12V car port (7-8 hours) or a wall power socket (5-8 hours). At 7 lbs the BALDR is also one of the lightest but most powerful portable solar generators available. The system doesn't even need a charge controller to charge with solar panels.
The BALDR can charge any device under 330W, including small appliances. Fully charged you can run a CPAP machine for hours. You can even add a humidifier and there will still be plenty of power left. For campers who just use small appliances and devices, the BALDR will last a long time without needing a charge.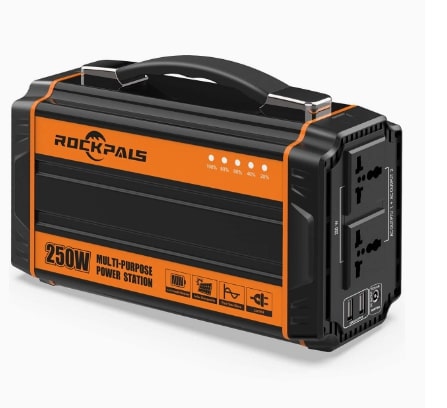 64800mAh capacity
Lithium polymer batteries
Pure sine wave AC power
Overcharge protection
Temperature control
MPPT controller
The Rockpals solar generator includes an MPPT controller for faster charges. If you connect the Rockpals to a solar panel (sold separately), charge time is up to 40% faster compared to non-MPPT controllers. There is no need for an adapter either so it's easy to use.
A fully charged Rockpals can run a 32 inch TV for 3+ hours or two nights worth of CPAP use. This is equal to 3 drone charges, 4 laptop charges, 60+ hours of light and 22 phone charges. You can also run a 60W mini fridge for 4 hours and other small appliances. Its lithium plolymer batteries are top of the line, which helps explain the power.
The Rockpals weighs just 5.5 lbs so it's convenient to carry. Power production is clean and there are 2 USB ports for your gadgets. 4 12V DC ports are available for CPAP and car accessories like fans, fridge and vacuum. With its dual 300 watt surge 120 AC outlet you can charge all the devices mentioned above plus air mattresses, modems, fans and more.
Whether you need an emergency backup power or a power source for that next camping trip, the Rockpals can deliver. This generator runs smoothly, reliably and quietly. There is more than enough power for most campers here without being bulky. Easy to carry and built to last, it's a heavy duty portable generator.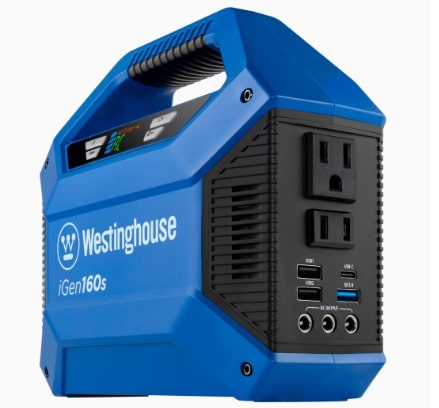 150 peak watts
Lithium ion batteries
USB C Outlet
Qualcomm Quick Charge 3.0 port
2 USB ports
LCD display
At 3.5 lbs, the iGen160s is a small but durable solar generator aimed at camping, RV, boating, tailgating and alternate power. There is a DC output, 3 DC inputs, Quick Charge 3.0 port, USB C port, 2 USB port and 2 120V outlets. With these options you'll have no problems finding the right outlet for whatever device you want to charge.
A side lamp is suitable for night reading and a 2-mode front flashlight brightens your surroundings. Because it's so light you can put the Quick Charge 3.0 port in your backpack or just carry it without trouble. With long lasting lithium batteries, iGen160s won't require incessant charging even with extend use.
Fully charged the iGen160s charges Bluetooth speakers, lights, mobile phone, tablets, drones and GPS. When it's time to recharge you have three options: car charger, wall charger (both included) and solar panel (not included). The warranty is good for 2 years and the solid design means this is a generator suited for regular outdoor use.
Regardless which charge option you choose, you'll always get clean, clear energy without any pollution, noise or fumes. While most use the iGen160s for camping, this generator is safe enough for use indoors as it doesn't cause pollution. For homeowners who want a solar charger for their phone, GoPro or want an emergency backup power, theiGen160s is a good choice.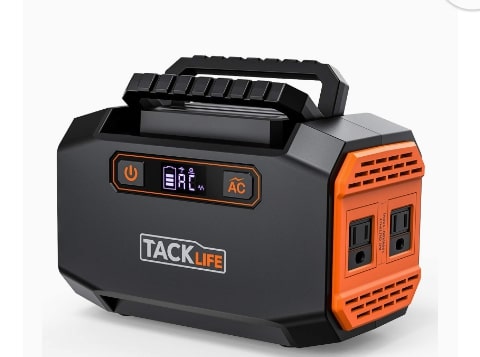 45000mAh
150W
167wh
2 USB ports
3 DC ports
Plug and play
The TACKLIFE portable power station is designed for outdoor camping adventures and efficient solar charging. It's a silent operator and weighs only 3.5 lbs, perfect when you're outdoors or there's a sudden power outage. You can charge TVs, fans, laptops, smartphones, car fridge, mp3 player and many more. You can even use this to power drones, a mattress and camping utilities.
The plug and play system makes the TACKLIFE easy to use, and there is protection against overloading, overheating, short circuits, and over current. Fully charged the system allows you to use electronic devices and small appliances for hours,. A car charger and cigarette light adapter are included. You can also charge by solar panel (not included) if you want to charge via the sun.
There are a total of 8 power inputs: 2 AC, 3 DC and 2 USB ports. These are more than enough for most campers, hikers and backpackers, and with the twin handles carrying is really easy. Also worth pointing out is the proper ventilation which helps prolong a generator's lifespan. The display readout is clear so you can see how much charge is used up.
If you need a lightweight solar generator, the system is a good candidate. You can charge devices simultaneously so that's another plus. With its charge and done design, there is no messy setup required here. The 45 day replacement guarantee is the cherry on top.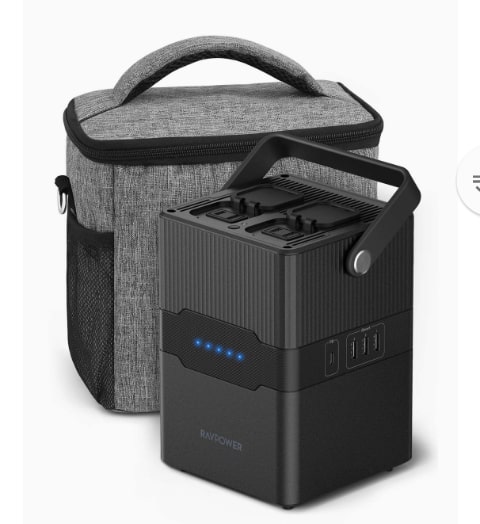 300W peak
70200mAh
120W DC output
60W PD port
Multiple emergency light modes
High end lithium battery
With its large capacity and multiple power outlets, the RAVPower power station is built for small appliances and devices up to 250W. The RAVPower charges bulbs, drones, small fans, notebook computers, cameras, mini fridge, a mini TV, radio, and other devices. As long as the device is under 250W you can power it, making this a handy companion indoors and outdoors.
There are 3 iSmart outputs, 1 PD output, 1 PD input, 1 DC output and 1 DC input for your devices. Charging is quick thanks to its compatibility with QC charge protocols AC output is easy to turn on, just press and hold for 5 seconds. As you might expect the RAVPower can be charged with a solar panel (sold separately). The manufacturer recommends an 80W solar panel minimum for best results.
The 18660 LG battery pack is at 70200mAh / 252.7Wh so it's no surprise you can charge a lot of appliances and devices. A fan is built in to dissipate heat when the temperature goes over 122 F and turns off below 122 F.
Two emergency light modes are included, an SOS Morse code flashing light and a solid light. You activate this feature by pushing the power button two times. A carry bag is provided and there is support for pass-through, so you can charge devices while charging the generator, a very convenient feature.
288wh Lithium ion battery
600 watt AC outlet
11 charge ports
Plug and play design
1 year warranty
1200W peak
The ECOFLOW River portable solar generator combines smart technology with power for maximum performance. Its 600 watt electricity putllet is top notch and reliable, and its AC power is more than enough for most users. At just 11 lbs, the River boasts of an 11,400mAh capacity, ideal for RVs, camping, emergency power or home use.
The lithium ion battery runs quietly and efficiently and has a 1 year guaranteed charge. There is no need to worry about overload, overheating or overcharging as ECOFLOW implemented numerous safeguards. Its thermal management system allows for optimum operation from -4F to 140F. Among the outlets included are a 12V car port, 2 DC outlets, 2 AC outlets, 2 USB C outlets, 2 USB and 2 USB Quickcharge.
An LCD screen provides detailed system info. The unit is compatible with the ECOFLOW Solar Panel but that is a separate product. Even as it is, the ECOFLOW River packs enough juice to run a mini fridge, laptop, mobile devices, humidifier, CPAP and other appliances. This kind of power makes the River ideal for RVs and boats, but it's portable enough to carry.
The ECOFLOW biggest draws are its outputs and sheer power. You can use all 11 outlets at the same time, great if you use a lot of gadgets or with other people. For versatility alone, the River is an excellent choice.
Portable Solar Generator Buying Guide
You can buy a portable solar generator easily enough, but you have to consider several factors before doing so. It all comes down to what you need so plan first before you buy. Here are some suggestions and guidelines to remember.
What are Your Power Requirements?
Your answer will determine what type of solar power station you'll need. Don't buy a generator with anything less than 100W. If you just need 100W or less, a solar battery pack would be sufficient. For phones, laptops, tablets, GPS, drones etc., a 200W+ generator will suffice.
For RVs, boats and small to medium sized appliances, get one in the 250W-300W+ range. That ought to be enough to power these appliances for hours and at the same time. For a refrigerator, microwave and large appliances, you'll need a1000W+ solar generator. At this range these generators won't be portable, but you get additional power.
Never use a solar generator beyond its capacity. If the limit is 250 watts, do not plug devices 250W or above in it. The best case scenario is the generator shuts down automatically. The worst case is you damage the generator and your device.
Do You Have a Solar Panel?
Some solar generators come with a solar panel, but others don't. With a solar panel you can charge the generator with the sun and you don't have to make a separate purchase. If you're looking for an all in one solution, a generator with a built in solar panel is ideal. But if you already have a solar panel then it's not a big deal.
How Portable is the Solar Generator?
A lot of them weigh less than 5 lbs and fit easily in your backpack. Other solar power stations stretch the definition of portable, clocking in at 20 lbs or more. The more powerful the generator the heavier. Unless you're trying to power an entire house, you'll find plenty of solar generators you can carry like a suitcase. If you have a vehicle, then the weight is not a big issue.
Will You Need More Power in the Foreseeable Future?
Most solar generators cannot be expanded. There are some exceptions: if the generator comes with a solar panel you can probably chain these to form a solar array. But most of them are limited by the size of the battery. If you are going to buy a solar power station, calculate how much power you will be using now and the future. If you see yourself needing more solar power, it's best to buy a bigger solar generator now.
Safety Features
A good portable solar power station should have protection against overloading, overheating, overvoltage and other potential problems. All the top solar generator manufacturers have these features built in, but it's better to check its feature list to be sure. The more safety features built into the generator, the better it is.
Durability
While solar generators can be used indoors, majority of people will use them outdoors. Durability is going to be important as the generator will be subjected to all kinds of weather. Some pointers to bear in mind.
A waterproof solar generator is necessary for use in boats.
Waterproof or water resistant solar generators are required if you're going anywhere close to rivers, streams or lakes.
A weatherproof solar generator is recommended if you're expecting weather extremes.
A durable carry handle is a must.
Put the generator in its carry case when not in use. Even if it's durable, avoiding unnecessary exposure to the elements won't hurt.
Portable solar power stations don't need a lot of maintenance. You just wipe the dirt off and that's it. As long as you use the generator properly it should last for years.
Extra Features to Consider
Some generators are bare bones, while others have extra bells and whistles. Some features that are really worth it are the following.
SOS / emergency light: no long explanation needed for this one. If you're camping it always helps to have an emergency light or better yet, a SOS light that can do Morse code.
Multiple ports: all the top solar generators have USB, AC and DC ports, but the difference is the number. How many do you need? Check this first so you can determine how many devices you can charge.
Multiple charging options: most solar power stations have a car and wall outlet charger. Some include a solar panel as a third option. Even those that don't have a solar panel are usually compatible with them so you have that option too.
Carry case: we already mentioned how handy a carry case is, so it would be nice to have one.
30-45 day refund period: while all solar generators have warranties, others go further and offer refunds for a certain period. That says a lot about their confidence in the product.
Conclusion
The best portable solar generators shows the tremendous strides in renewable energy technology. They are the perfect bridge between solar phone chargers and home solar power systems. Now you can go camping, boating, trekking or hiking and never have to worry about running out of power. And these are more cost effective and healthier alternatives compared to gas powered generators.

I am an advocate of solar power. Through portablesolarexpert.com I want to share with all of you what I have learned and cotinue to learn about renewable energy.